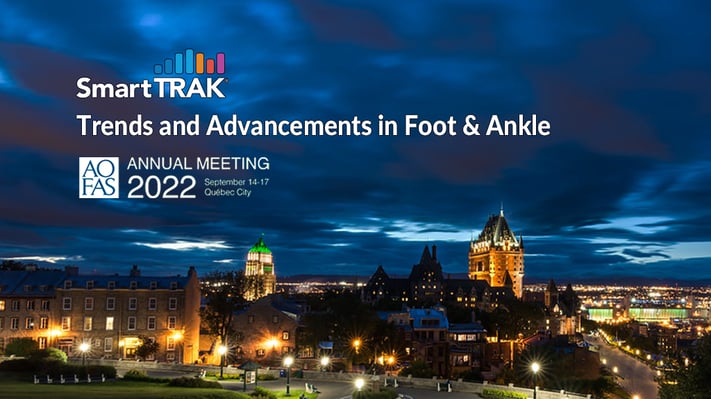 SmartTRAK highlights new products and Company strategies to penetrate the Foot & Ankle space at AOFAS 2022
SmartTRAK identified several key themes and takeaways from the American Orthopaedic Foot & Ankle Society (AOFAS) 2022 meeting held recently in Quebec City, Canada. Manufacturers showcased product introductions with a continued focus on hallux valgus solutions and are investing in solutions beyond implants to differentiate themselves and gain share in the US Foot & Ankle Market.
Among the many topics covered in detail in the complete article, which can be downloaded here, are:
Small, Niche Players Attempt to Gain Share

Globus Fills Out Trauma and Extremities Product Portfolios
Enovis Showcases New Products and Gains Traction in F&A Space

Direct-To-Consumer Marketing Drives Growth in Hallux Valgus Market

Treace Medical Outpaces Others
Medartis Showcases New Products
JNJ/DePuy/Synthes' Acquisition
Paragon28 Focuses on the MIS Segment
To download the complete "AOFAS 2022: Trends and Advancements in Foot & Ankle" article by SmartTRAK's Natasha Weeks, Sr. Analyst, Trauma & Extremities, just click the button below.
---
SmartTRAK
is a comprehensive, easy-to-use, business intelligence solution for the Life Sciences Industry that provides breaking updates on pertinent company news, potential treatments and guidance, international survey results, statistical analysis by country, studies, trial results, financial impact and more. All subscribers receive a Daily Updates email containing the latest need-to-know news curated by our expert analysts. It's the perfect way to start your day! If you would like to learn more about SmartTRAK, just click
here
.