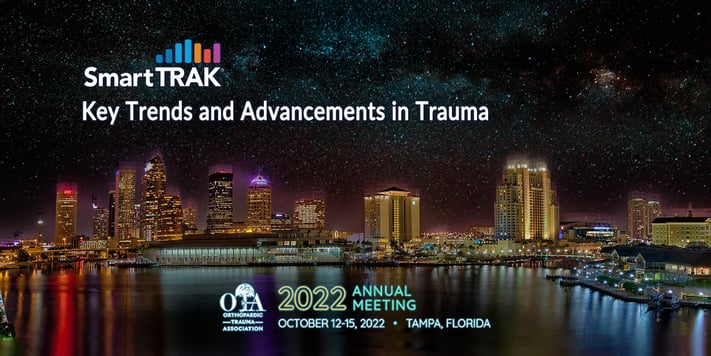 SmartTRAK highlights the latest trends and innovations at OTA 2022, with a focus on deformity correction and limb lengthening.

Our expert analysts

focus in on the latest advancements, key trends and takeaways from the Orthopedic Trauma Association (OTA) meeting in Tampa, Florida held October 12–15, 2022. Major trauma manufacturers showcased innovation through new product introductions.




Stepping Outside of Internal Fixation

In the market for ring fixation devices, companies have been innovating beyond static frames and are developing dynamic, computer-assisted hexapod frames to treat bone fractures and deformity corrections. One of the challenges with hexapod frames is that they require manual strut adjustments, a process that is prone to patient and clinician error and can require up to 20 manual adjustments per day—a definite burden on the patient and caregiver ...



Limb Lengthening Garners Attention at OTA
Limb lengthening and deformity correction has been a technically challenging segment that has utilized various implant solutions. As more solutions enter the market, discussions focus on which is technically easier to use and what has the best patient outcomes. Studies demonstrate limb lengthening nails have the potential to be a reliable tool for bone defects without the need of supplemental fixation from an external fixator or plate system ...
To download and read the complete article featuring SmartTRAK's analysis of the Key Trends, Advancements and Takeaways from OTA 2022, just click the button below.
---
SmartTRAK
is the Medtech industry's only global Insights-as-a-Service solution for the Orthopedics, Wound Care, Regenerative Medicine and Neuro Therapy markets.
SmartTRAK
's propriety methodology turns disparate data from hundreds of sources into powerful insights customers can rely on as the trusted source for strategic decision-making. The
SmartTRAK
enterprise platform includes rich daily updates, comprehensive market coverage and simple-to-use tools and dashboards for market, product and financial analysis. Customers leveraging the
SmartTRAK
platform also have direct access to market experts for inquiries and advisory services. For more information visit
SmartTRAK.com
and follow us on
LinkedIn
.