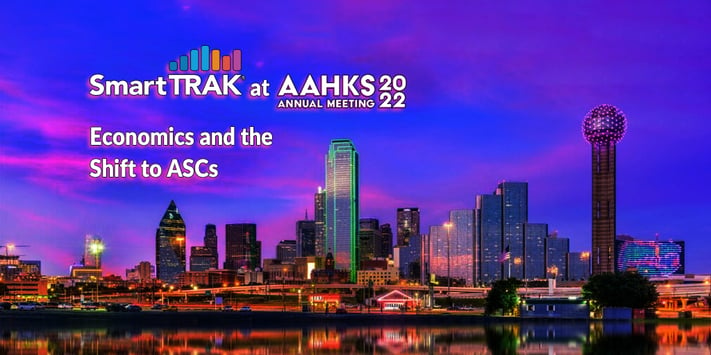 Highlighting the economic conversation at AAHKS 2022 changing the landscape of joint replacement
At the American Association of Hip and Knee Surgeons (AAHKS) 2022 Annual Meeting in Dallas, SmartTRAK identified economics as a leading conversation theme under the guise of other topics. AAHKS 2022 itself was not immune to rising economic pressures as many clinicians were rumored to have backed out of attending the meeting and several exhibiting companies scaled down their participation as well. Surgeons not only attended sessions to enhance their clinical knowledge, but they also discussed facing the challenges of reduced reimbursement. In the exhibit hall, Companies featured products and technologies seemingly geared towards the shift of hip and knee replacement procedures to the more cost-conscious ambulatory surgery center (ASC) setting.
Among the many topics covered in detail in the complete article, which can be downloaded here, are:
Economic Pressures
Reimbursement Challenges
The Decline of CMS Physician Primary Hip Replacement Reimbursement
Manufacturers Targeting ASCs, including:


Smith& Nephew
ConFormMIS
Exactech
Maxx Medical
DePuy Synthes
With the American Academy of Orthopedic Surgeons 2023 annual meeting just around the corner, SmartTRAK expects clinicians and industry to continue collaborating to develop solutions to address these economic challenges while advancing the science of joint arthroplasty for the growing population of osteoarthritic patients.

To download the complete "AAHKS 2022: Economics and the Shift to ASCs" article by SmartTRAK's Lisa Mahan, VP Product Development & IT, Sr. Analyst TJ&E, just click the button below.
---
SmartTRAK is a comprehensive, easy-to-use, business intelligence solution for the Life Sciences Industry that provides breaking updates on pertinent company news, potential treatments and guidance, international survey results, statistical analysis by country, studies, trial results, financial impact and more. All subscribers receive a Daily Updates email containing the latest need-to-know news curated by our expert analysts. It's the perfect way to start your day! If you would like to learn more about SmartTRAK, just click here.