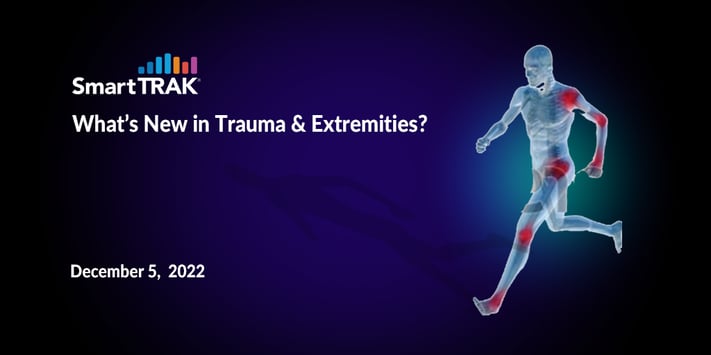 In the market for Trauma & Extremities, companies continue to innovate with new product introductions as well as a value-based care approach that promotes supporting clinical evidence for new and existing products showing their benefits to the patient and the hospital. Manufacturers are investing in solutions beyond implants to differentiate themselves and gain share in the Trauma & Extremities markets. SmartTRAK has observed a variety of strategies and solutions in the fast-paced hallux valgus segment as well as investment in deformity correction and periprosthetic solutions. The following is a sample of SmartTRAK's recent Trauma & Extremities news and developments from around the world, compiled, curated and posted in real-time by the expert analysts at SmartTRAK.
We constantly monitor the worldwide MedTech industry, sifting through the noise to present to our subscribers the most relevant international news, trends, new products, patents, financial data and competitor developments in the global Life Sciences industry. If you'd like to receive these expert insights daily, Contact Us to learn more. Our users think it's the perfect way to start their day.
New Products:
CAPTIVATE Cannulated Screw System* - Globus*


Globus announced the launch of the CAPTIVATE Headed Cannulated Screw System in diameters 2.5/3.0 mm, 3.5/4.0 mm, 4.5/5.5 mm. SmartTRAK reviewed the products at OTA with Globus as the Company fills out its Trauma & Extremities portfolio. LinkedIn

Enovis reported its newly FDA-approved STAR Patient Specific Instruments for the STAR Ankle utilize an updated, simplified surgical technique with the potential to reduce OR time, cutting out 30 steps. STAR PSI is in early product surveillance with full launch planned for Mar 2023.
Patents:
Medline*


Medline was granted US Patent "Compression Device, Kit, And Method" describing a device, such as a washer, comprised of a super-elastic material to be used in conjunction with a screw, such as a lag screw, to produce compression at a fracture site.11,510,713

Globus medical was issued US Patent "Systems And Methods For Intramedullary Nail Implantation" describing IM Nails, systems, insertion tools and method of treatment for use in long bone fractures. 11,490,905
Studies:
When compared to cannulated compression screws or dynamic hip screws, the FNS is associated with shorter operation times, less intraoperative fluoroscopy & earlier post-op weight bearing concluded an analysis of current research. Zhongguo Xiu Fu Chong Jian Wai Ke Za Zhi Nov 2022

RTSA vs ORIF in Proximal Humerus Fxs

Three- and four-part proximal humeral fxs in patients over 70 yrs have better patient-reported outcome scores with reverse total shoulder arthroplasty compared to ORIF with angular locking plates reported a study of 89 patients. Clin Orthop Relat Res

A study of 14 patients undergoing "on-table" reconstruction for treatment of comminuted radial head fracture reported complete bone union was achieved in 9 cases, partial union in 4 cases and nonunion in one case at mean follow-up of 50 months. JOSR

Deals/Financing:
ConforMIS*


ConforMIS announced it entered a settlement and license agreement with Medacta that resolves all patent disputes between them. Medacta will receive a non-exclusive license to certain ConforMIS patents related to patient-specific instruments for knee and shoulder implants.

Globus*
GMED has had preliminary discussions to acquire NUVA, with an indicative cash-and-stock offer for NuVasive made in recent weeks.

LREsystem*
LREsystem Ltd announced a strategic partnership with Ortho Consulting Group, a company that specializes in helping orthopaedic and spine companies build global sales channels for their products. OCG has been granted an equity position in LREsystem as part of the deal.

Clinical/Regulatory:
AUTOBAHN Femoral Nails* - Globus*


Globus received 510(k) clearance for the AUTOBAHN EVO Femoral Nails.

Surgical vs Non-Surgical Treatment in Geriatric Distal Radius Fxs


A multicenter observational study will commence in Feb 2023 to compare outcomes in patients over 65 with distal radius fxs treated non-operatively or surgically with plates, pinning or ex fix. With an estimated enrollment of 110, completion is slated for May 2024. clinicaltrials.gov

Tyber Medical*
Tyber Medical announced the NiTy+One-Shot Staple Fixation System received 510(k) clearance. The system includes a single-pass insertion instrument, beneficial for fractures, osteotomy fixation and joint arthrodesis.
Markets:
US Pediatric Trauma Market


Pediatric tibial fractures are the third most common pediatric long bone fracture after the femur and forearm and represent 15% of all pediatric fractures. SmartTRAK US Pediatric Market Overview.*

Needham Projects 2022 T&E Market Growth


Needham projects the Trauma and Extremities Market will end 2022 with 8% CC growth for Q422, with full-year growth of 6%.

Needham Med Tech Monthly


Revenues:
*These links can only be viewed by SmartTRAK subscribers. For more information on SmartTRAK, including how to receive a demo and subscribe, please click the button below.
---
SmartTRAK is a comprehensive, easy-to-use, business intelligence solution for the Life Sciences Industry that provides breaking updates on pertinent company news, potential treatments and guidance, international survey results, statistical analysis by country, studies, trial results, financial impact and more. All subscribers receive a Daily Updates email containing the latest need-to-know news curated by our expert analysts. It's the perfect way to start your day! If you would like to learn more about SmartTRAK, just click here.