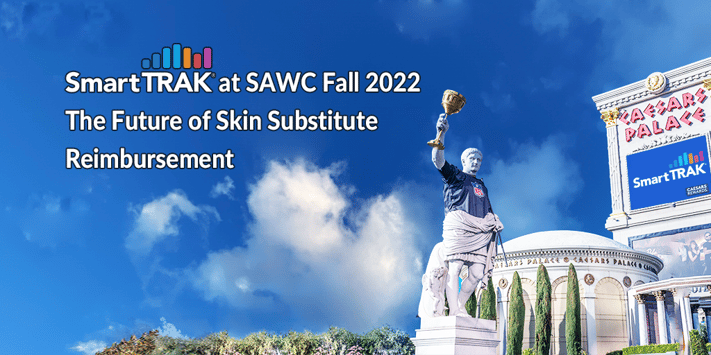 The potential of US reimbursement changes to Skin Substitutes weighed heavily on companies at SAWC Fall, yet subsequently, CMS decided to delay finalizing its proposed changes.
The Symposium on Advanced Wound Care (SAWC) Fall 2022 gathered for another year in Las Vegas. The exhibit hall was filled with most wound care manufacturers and though booth hours were short, the clinical attendees made the best of their time searching out the latest in wound care technologies.
In this article, SmartTRAK discusses:
Alternative Product Developments to the Skin Substitute Market
Potential Impact of Proposed Reimbursement Changes
The Top Four Companies by Revenue
CMS' Proposed Terminology Change from "Skin Substitute"
Packaging Skin Substitutes as "Incident to" Supplies
While SAWC Fall attendees learned the latest about wound care and technologies, companies were discussing the highly anticipated Medicare decision on the reimbursement of cellular and or tissue products (CTPs)/skin substitutes in the physician office. SmartTRAK heard many say they were concerned about ...
To read the rest of "The Future of Skin Substitute Reimbursement" article by Gary Delhougne, GM, SmartTRAK Wound, just click the button below.
---
SmartTRAK is a comprehensive, easy-to-use, business intelligence solution for the Life Sciences Industry that provides breaking updates on pertinent company news, potential treatments and guidance, international survey results, statistical analysis by country, studies, trial results, financial impact and more. All subscribers receive a Daily Updates email containing the latest need-to-know news curated by our expert analysts. It's the perfect way to start your day! If you would like to learn more about SmartTRAK, just click here.