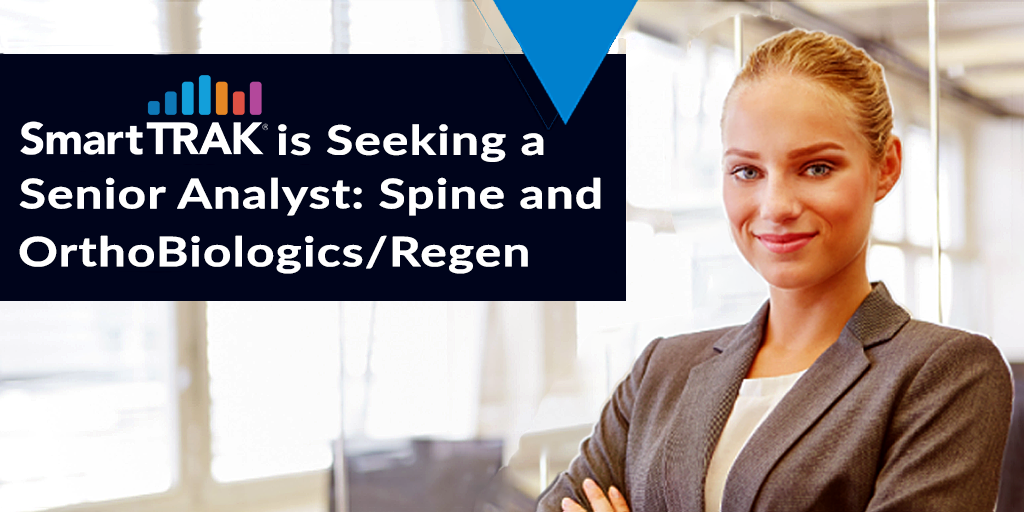 Do you love keeping up with the latest trends in the Spine and OrthoBiologics/Regen medicine markets? Are you a closet investigative reporter who loves researching and analyzing what's going on in the market? Are you looking for a position that leverages your industry knowledge, expertise and connections in new ways? If you are a current or former marketing, market research or business development professional who has worked with one of the major orthopedic/spine companies and looking for a career change, we would love to talk with you.
We are looking to strengthen our SmartTRAK Spine and OrthoBiologics/Regen modules with the addition of a qualified person with industry specific experience. All SmartTRAK analysts are former marketing, business development or R&D professionals with one of the major orthopedic/spine suppliers and, in fact, most have come to us via recommendations from our subscribers, as well as those in the industry. We believe that having a person of this caliber with relevant experience and deep insight on the market is a tremendous value-add we can offer SmartTRAK subscribers.
We are looking for someone with Spine and OrthoBiologics/Regen industry experience who is interested in working full-time. Click the button below to learn more and apply.
About You
You have senior-level marketing, market research and business development experience with a medical device company and have worked in the Spine hardware, Orthobiologics and Regenerative medicine markets. You have an understanding of the key companies, products and industry dynamics and are comfortable sharing your industry insights. You are intellectually curious and skilled at researching, analyzing and synthesizing data from multiple sources. You can easily communicate technical concepts through clear written communication. You are experienced in market modeling, analyzing and consolidating research from multiple data sources. You enjoy writing and synthesizing feedback from industry contacts, company and clinician interviews. You pride yourself on being an "insider" in these markets with extensive clinician and industry contacts.

Responsibilities:
Primary responsibilities include:
Keeping the SmartTRAK modules current, concise and relevant to our customer's business intelligence needs.
Continuously monitor and stay on top of industry developments by updating market, company and product profiles as events occur.
Provide daily insights via SmartTRAK Updates on market dynamics, competitive activities, earnings and financial announcements, analyst reports, new product launches, deals/financing, patents, regulatory submissions, reimbursement, clinical studies etc.
Conduct detailed financial research on companies and products for use in market modeling, forecasting, market share assessments and trend analysis.
Write forward-looking articles including market overviews and quarterly recaps on the current state of the market
Interview start-up companies, clinicians and other industry stakeholders on emerging market and technology trends
Work with the sales team to prospect and close new business and maintain relationships with current clients
Attend scientific meetings to remain current on the industry as well as maintain and develop new relationships with current and prospective subscribers
Be available/flexible to work on additional projects as assigned, including custom consulting projects
Professional communication and presence internally/externally
Skills and Qualifications:
15+ years of experience in Marketing, Market Research, Business Development within the spine, orthobiologics and regen medicine device sector.
Deep insights and knowledge of the spine hardware, orthobiologics /regen markets.
Exceptional analytical skills and experience with forecasting and market modeling
Communicates well both verbally and in writing.
Extensive contacts within the industry with both companies and clinicians
Attentive to detail and accuracy, committed to excellence, continuously looks for improvements, can effectively manage across multiple projects and assignments
Meets deadlines, works independently and accepts accountability,
Proficient in Microsoft Excel, Word, conducting online research, review and analysis of peer-reviewed journals and scientific information
Ability to work full-time in a remote environment.
---
SmartTRAK is a comprehensive, easy-to-use, business intelligence solution for the Life Sciences Industry that provides breaking updates on pertinent company news, potential treatments and guidance, international survey results, statistical analysis by country, studies, trial results, financial impact and more. All subscribers receive a Daily Updates email containing the latest need-to-know news curated by our expert analysts. It's the perfect way to start your day!