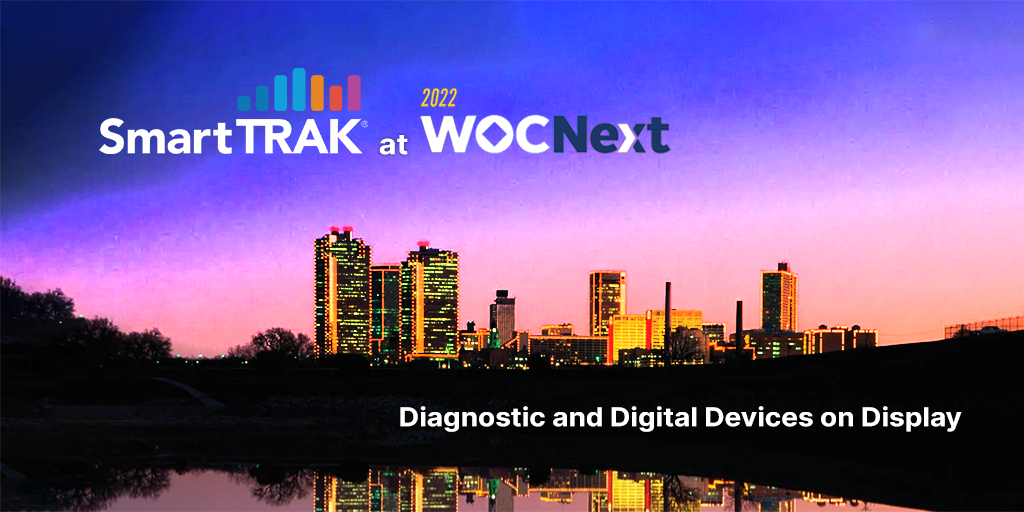 Emerging from the COVID-19 era, wound care innovation is driven by small players, especially in the digital and diagnostic spaces
In June, wound, ostomy and continence-focused nurses, and supporting industry gathered in Fort Worth, TX for the hybrid WOCNext 2022 conference. In-person attendance was below expectations, but healthy booth time allowed for product discussions with exhibitors.
SmartTRAK observed that product innovation at WOCNext came from smaller companies and those focused on digital and diagnostic solutions not large manufacturers like Smith+Nephew*, 3M* or Mölnlycke* SmartTRAK learned that the large manufacturers are not launching new products for multiple reasons, including supply chain limitations, access to raw materials and the confidence to be able to supply enough products to serve the market.
SmartTRAK is closely watching advances and innovation in the digital and diagnostic space in wound care. Specifically, SmartTRAK Analyst Kris Flinn recently published an article, "The Future of Biosensors and Smart Dressings in Wound Care Diagnostics", available here, highlighting developments in diagnostic biosensors in smart dressings. Additionally, in an early 2022 interview with reimbursement expert Kathleen Schaum, we learned about reimbursement trends that support the development and use of these products.
Outlined below are several wound diagnostic and digital products prominently highlighted at WOCN.
*These links can only be viewed by SmartTRAK subscribers to this module. For more information on SmartTRAK, including how to receive a demo and subscribe, please click the button below.
To download SmartTRAK Analyst Kris Flinn's recently published article titled "The Future of Biosensors and Smart Dressings in Wound Care Diagnostics" just click the button below.
---
SmartTRAK now offers Skin Substitutes (CTP) Site of Care. This module will make you an expert in Site of Care information for the Skin Substitutes market. Receive market shares, 5-Year Growth Projections and Company & Product Performance across multiple sites of care. Download our PDF to get a preview of what's available!