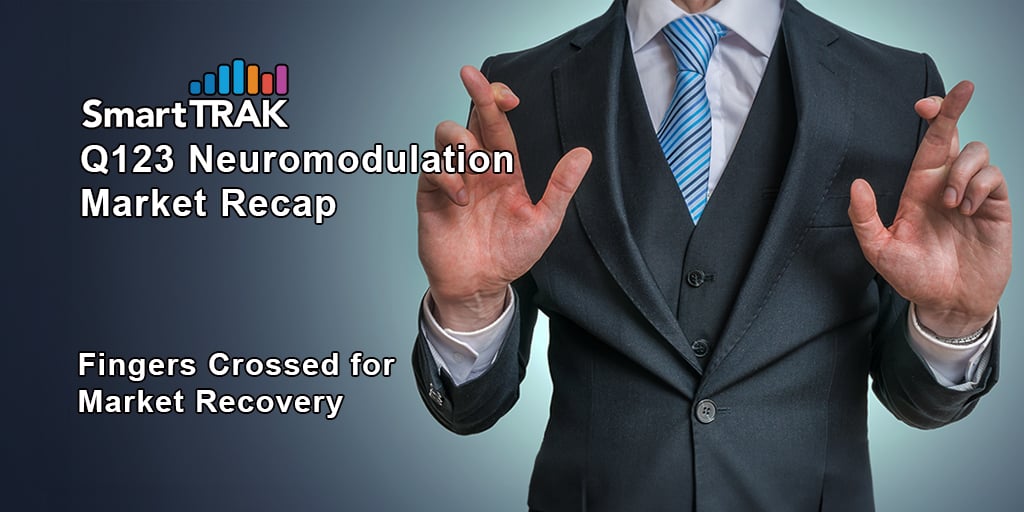 Neuromodulation companies are keeping their fingers crossed that the positive growth in Q123 is a sign that market recovery is well underway.
With three of the four top neuromodulation companies reporting high-single-digit (HSD) growth in Q123, manufacturers are keeping their fingers crossed that market recovery is well underway. The impact of COVID has lessened significantly and several manufacturers reported that near-term improvement in healthcare staffing levels and post-COVID demand helped drive strong underlying procedure volumes in Q123. Competitors are also seeing gains on new and differentiated product offerings and expanded indications.
Complete Q123 Neuromodulation Market Overview
SmartTRAK's Expert Market Analysis and Insights
All Neuro Companies' News, Revenues, Data, Charts and Market Shares
SCS On the Upswing

Products Contribute to Growth
New Competitor Enters the Market
Advancing New Indications, Reimbursement

Deep Brain Stimulation Sees Replacement Headwinds, Share Shifts
Q123 Clinical/Regulatory News
It's too early to say whether or not the market is fully recovered or if the growth in the quarter is due to ...
Read the entire Q123 Neuromodulation Market Recap, including SmartTRAK's expert analysis, news, data, charts, revenues and shares*

*These links and the complete unedited article can only be viewed by SmartTRAK subscribers to this module. For more information on SmartTRAK, including how to receive a demo and subscribe, please click the button below.
---
SmartTRAK
is the Medtech industry's only global Insights-as-a-Service solution for the Orthopedics, Wound Care, Regenerative Medicine and Neuro Therapy markets. SmartTRAK's propriety methodology turns disparate data from hundreds of sources into powerful insights customers can rely on as the trusted source for strategic decision-making. The SmartTRAK enterprise platform includes rich daily updates, comprehensive market coverage and simple-to-use tools and dashboards for market, product and financial analysis. Customers leveraging the SmartTRAK platform also have direct access to market experts for inquiries and advisory services. If you would like a demo of what SmartTRAK has to offer and see how we can help increase proficiency, improve productivity and reduce costs for your company, just click
here.