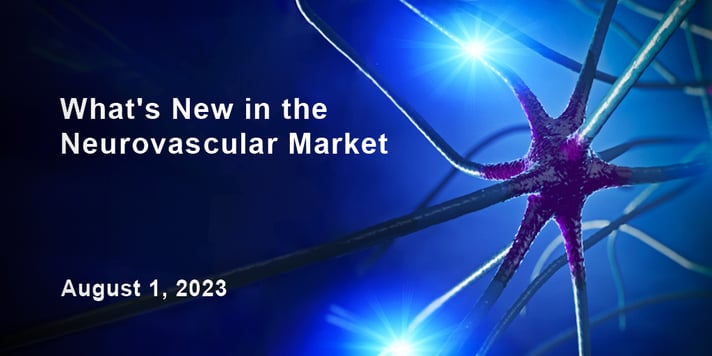 SmartTRAK constantly monitors the worldwide MedTech industry, sifting through the noise to present to our subscribers the most relevant international news, trends, new products, patents, financial data and competitor developments in the global Life Sciences industry. Contact Us if you'd like to learn how to receive these expert insights daily. Our users think it's the perfect way to start their day.
The following is just a small sampling of recent Neurovascular market updates from around the world compiled, reviewed and posted daily by our SmartTRAK analysts.
New Products:
ZOOM*

-

Imperative Care*




Imperative Care announced the completion of first cases using the recently FDA-cleared Zoom 88 Support catheter. One of the cases was an AIS patient with a tandem occlusion treated at Erlanger Health System in Chattanooga, TN. SmartTRAK reported FDA clearance of the device on Jun 15.

EOSolutions Launches Dr. Banner BGC

EOSolutions announced the full commercial launch of its Dr. Banner, Balloon Guide Catheter (BGC), developed in collaboration with InNeuroCo. According to the Company, the BGC features a 0.091 ID, proximal stability, distal trackability and a compliant polyurethane balloon.
Patents:
phenox*


phenox GmbH's US Patent Application "Insertion System For Implants For Treatment Of Bifurcation Aneurysms" was published disclosing a Y-shaped tubular implant and Y-shaped insertion catheter for bifurcation aneurysm treatment. 20230233347

Aspiration Catheter with an Adjustable Tip

The Univ of Toledo's US Patent Application "Aspiration Catheter With An Adjustable Tip For The Intracranial Circulation" was published disclosing a neurovascular aspiration catheter with an adjustable tip controlled by pull wires. 20230233221

Microcather Path Generation for Aneurysm Treatment

Hangzhou ArteryFlow Technology's US Patent Application "Microcatheter Path Generation Method, Shaping Method Of Mandrel, Computer Equipment, Readable Storage Medium And Program Product" was published re a vascular model to find a path from a starting point to an ICA. 20230210600
Studies:
EVT for Large Ischemic Stroke


A systematic review and meta-analysis of 3 RCTs (N=1,011) evaluating EVT for large ischemic strokes

demonstrated

results that favored EVT over medical management and concluded EVT has a clear functional benefit and does not increase the risk of significant complications.

Neurosurgery



Route 92
A 36-patient 2-year single-center experience with Route 92's triaxial catheter assembly and HiPoint 0.088" LBC reported* 26 patients were treated with the 0.088" LBC alone. Single pass mTICI 2C/3 was achieved in 22 cases, and all patients had mTICI ≥ 2B. SNIS 2023 E-poster

JNJ/DePuy Synthes*
A CERENOVUS-supported E-poster presented* the results of a Delphi method consensus from the 2022 CLOTS 7.0 Summit that describes what a challenging clot could be and suggests technique should be switched after 3 failed MT passes. SNIS 2023 E-poster

Deals/Financing:
RapidAI Announces $75MM Series C Funding


RapidAI announced $75MM in Series C funding led by Vista Credit Partners. The funding aims to drive platform innovation to support more disease states and go-to-market functions to accelerate growth in new regions and product verticals.

Shape Memory Medical Sublicenses Tech Outside Vascular Focus




Shape Memory Medical

entered

into an agreement with an undisclosed global medtech company to sublicense its proprietary shape memory polymer tech for a narrow indication in a therapeutic area outside of Shape Memory Medical's cardio-, endo- and neurovascular focus.




Sensome and Asahi Intecc to Develop Next-gen Smart Guidewire


Sensome and Asahi Intecc are

collaborating

to develop the next-gen Clotild Smart Guidewire, with Asahi Intecc in a manufacturing role. The Clotild Smart Guidewire uses Sensome's AI-driven tissue microsensor to provide clot information to physicians during thrombectomy procedures.
Clinical/Regulatory:
Development of AI for Video-based Stroke Detection


A 300-patient clinical trial in France will aim to

develop

a collection of videos to enable the creation of artificial intelligence algorithms for early stroke diagnosis via self-testing with the AI-STROKE mobile device app. Estimated study completion is Dec 2024.

clinicaltrials.gov


Acandis*


A 150-patient clinical trial in Vietnam in collaboration with Acandis GmbH will assess the use of the Credo stent in the treatment of symptomatic intracranial stenosis based on rates of stroke at death and 1-with f/up. Estimated study completion is Oct 2024. clinicaltrials.gov

Two vs One Stent Retriever for AIS Thrombectomy
A 200-patient clinical trial will compare the effectiveness and safety of the use of 2 SRs simultaneously vs one SR as a first-choice treatment for AIS thrombectomies. Est study completion is July 2024. clinicaltrials.gov
Markets:
Mechanical Thrombectomy - US*


Due to research on MT in other AIS patients (e.g., low ASPECTS, late time window, posterior circulation, etc.), the number of US AIS patients who are potential MT candidates is projected to increase from ~247,140 in 2022 to ~258,909 in 2027E. SmartTRAK Mechanical Thrombectomy Market Overview*

Microbot Medical Working Towards LIBERTY Clearance in Europ

e

Microbot Medical

announced

it has engaged with a leading Notified Body that will audit the Company to verify the compliance of its quality management and the LIBERTY Robotic Surgical System development. Preparations are also being made to obtain EU-MDR certification and CE mark.




SmartTRAK Did You Know?


RapidAI has

partnered

with hospitals in India, including Bengaluru and Mumba. Apul Nahata, India head and VP-engineering of RapidAI, told

Analytics India Magazine

that for a country such as India, AI can bring a massive value add.
Revenues:
* These links can only be viewed by SmartTRAK subscribers. For more information on SmartTRAK, including how to receive a demo and subscribe, please click here.
---
SmartTRAK is the Medtech industry's only global Insights-as-a-Service solution for the Orthopedics, Wound Care, Regenerative Medicine and Neuro Therapy markets. SmartTRAK's propriety methodology turns disparate data from hundreds of sources into powerful insights customers can rely on as the trusted source for strategic decision-making. The SmartTRAK enterprise platform includes rich daily updates, comprehensive market coverage and simple-to-use tools and dashboards for market, product and financial analysis. Customers leveraging the SmartTRAK platform also have direct access to market experts for inquiries and advisory services. If you would like a demo of what SmartTRAK has to offer and see how we can help increase proficiency, improve productivity and reduce costs for your company, just click here.