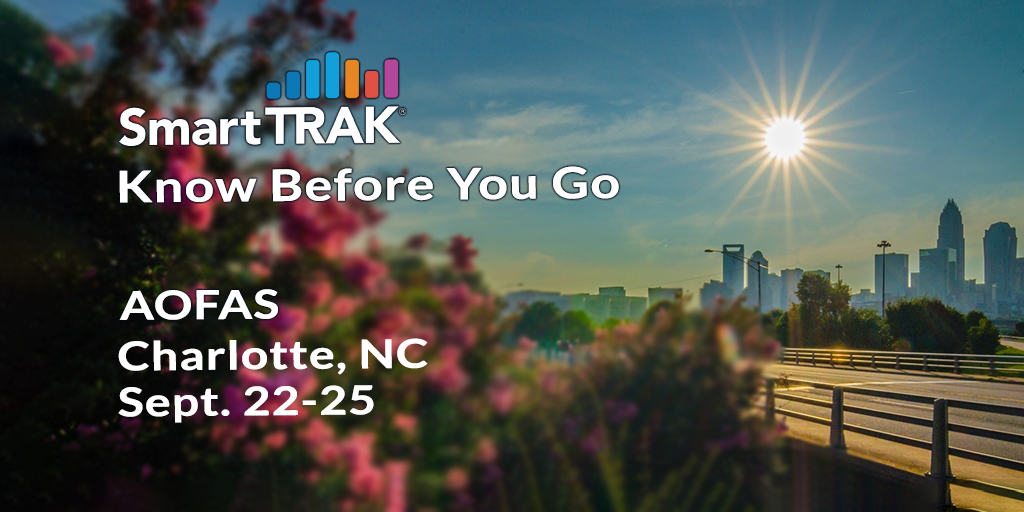 After another difficult year, it's time to get out there and start reconnecting in person. SmartTRAK is excited to be traveling to Charlotte, NC to attend AOFAS at the Charlotte Convention Center, September 21-25.


SmartTRAK will be represented by Natasha Weeks, General Manager, Trauma & Extremities. Natasha is also managing our 3 newest modules, Pediatric Trauma, Pediatric Extremities and Pediatric Spine. If you would like to meet with Natasha while attending the meeting, just click here.
Now that we're back to in-person meetings, it's time to resume our continuing series Know Before You Go, so I sat down and asked Natasha a few questions about what she is looking forward to at AOFAS.
TW: What are you looking forward to the most about the meeting?
NW: Interacting with industry, seeing in person the new innovations that have launched or will soon come to market, attending industry symposiums as well as paper presentations.
TW: As an analyst, are there any new technologies, innovations or companies on your radar for the meeting?
NW: After 2 years of not seeing any new technologies or companies in person I will be making my way around the exhibit hall to check out all the exciting new offerings within the Foot & Ankle segment.
Specific companies that I intend to target include:
Stryker's booth, especially after they acquired Wright Medical and will now showcase their combined portfolio which includes the T2 ICF Nailing System, VariAx 2 plating system and the Ortholoc 2 LapiFuse Triplanar correction system

.

DePuy Synthes who will likely highlight new entries such as the FibuLink system as well as the Hammertoe CCI.

Smith & Nephew who recently released the CADENCE Total Ankle Flat Cut Talar Dome System. The Company will also display the portfolio from the 2021 acquisition of Integra's extremities orthopedic business.

Paragon 28 who continues to be a powerhouse with releasing new innovative products in the Foot & Ankle segment

Treace Medical who is making a splash with their Lapiplasty

System
TW: Are there any sessions that you think are not to be missed?
NW: I think Symposium 1: Innovations in Orthopaedics will shed light on the use of nitinol, a theme that Arthrex also reviews during their industry symposium, 3D printing and custom implants for use in the foot & ankle segment will be important as we see the industry embrace these new technologies. This first symposium also questions the benefit of a total talus which I think will be interesting to hear surgeons debate.
With regards to industry symposiums, Arthrex, Paragon 28, Treace Medical, Conventus-Flower and Crossroads – among others – all have compelling programs set up to address new product introductions along with hot topics such as Lapidus corrections and the role of MIS surgery in the foot & ankle segment.
TW: Thank you...
If you are traveling to Charlotte and attending AOFAS and wish to meet with Natasha while you're there to discuss what's new in the industry, our new Pediatric Orthopedic modules or to find out about what SmartTRAK can do for you, please just click the button below.
---
SmartTRAK is a comprehensive, easy-to-use, business intelligence solution for the Life Sciences Industry that provides breaking updates on pertinent company news, potential treatments and guidance, international survey results, statistical analysis by country, studies, trial results, financial impact and more. All subscribers receive a Daily Updates email containing the latest need-to-know news curated by our expert analysts. It's the perfect way to start your day! If you would like to learn more about SmartTRAK, just click here.