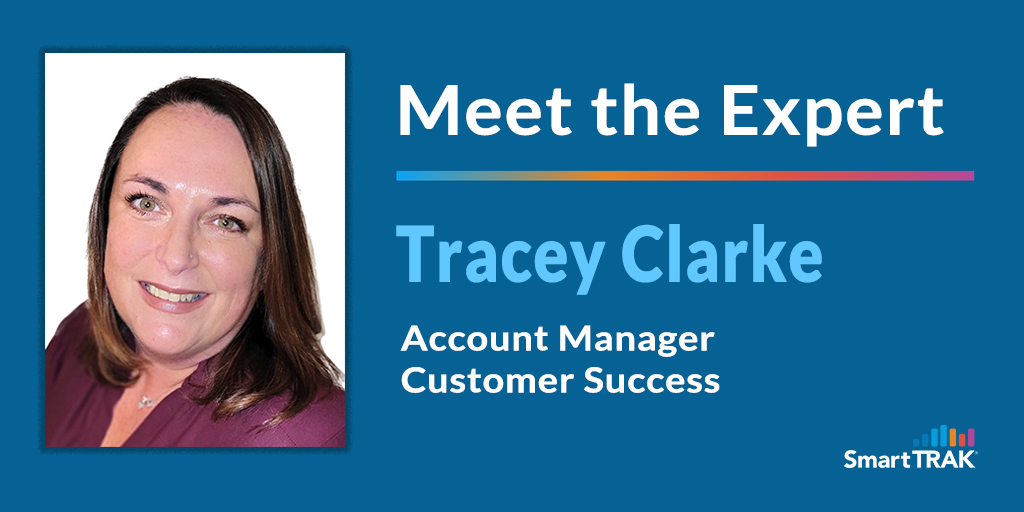 We are pleased to announce that Tracey Clarke has joined the team at SmartTRAK as our new Account Manager, Customer Success. Tracey has 20+ years experience in the Print and Digital Communications industry, including roles as a Client Relations Manager and IT Project Manager at Broadridge Customer Communications and DST Output LTD.
Meet Tracey Clarke:
What is your role with SmartTRAK? I am an Account Manager on the newly established Customer Success team.
What do you like about SmartTRAK? This is an exciting time to be starting at SmartTRAK. There are many positive changes happening and I am enjoying the opportunity to see the outcome. I feel very fortunate to be with a company that helps others Be the Expert.
What is something special or unique that you bring to SmartTRAK subscribers? I am thrilled to be part of the new Customer Success team. My background in account management as well as project management will allow me to wear a few different hats within the organization. I am looking forward to continuing to provide excellent customer service to the SmartTRAK clients.
How do you stay current on what's going on in the industry? I read the SmartTRAK updates. I've been also reading Medical News Today.
If you could have one superpower, what would it be? I think I would like to be able to apparate (yes, I'm a Harry Potter nerd)
What is the last show you binge watched? I'm a little "behind the times", but I just started to watch Yellowstone. I must make myself stop watching after a certain number of episodes.
What is your life like outside of SmartTRAK? I live in Connecticut with my 2 cats, Izzy and Barney. They are not always the best office assistants as they love to nap on my desk. When not working, I love to go to the beach, read and hang out with my friends. I love to travel and looking forward to a trip to England this year.
What are you the most excited about for your upcoming year at SmartTRAK? I am looking forward to helping "build" the Customer Success team and working with the SmartTRAK team and clients.
---
SmartTRAK is the leading source of competitive intelligence used by the top ten global orthopedic & wound care companies. If you would like a demo of what SmartTRAK has to offer and see how we can help increase proficiency, improve productivity and reduce costs for your company, just click the button below.