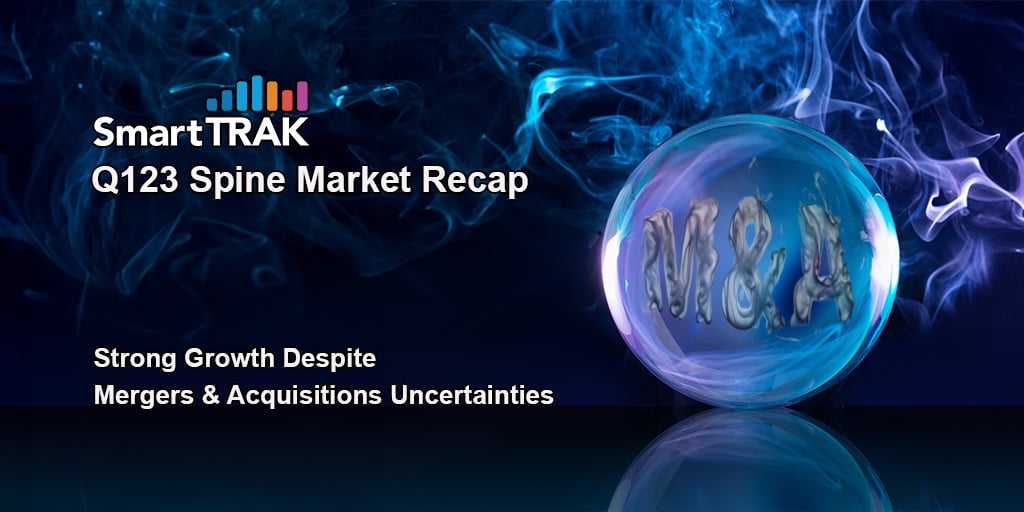 Despite M&A uncertainties with Orthofix/SeaSpine and Globus/NuVasive, the Spine market posted strong growth for Q123.
Q123 gave definition to some of the merger and acquisition uncertainty, but there's undoubtedly more to be revealed as 2023 presses on. Only a crystal ball could predict the full-year performance of the newly integrated Orthofix/SeaSpine plus the highly-anticipated combination of Globus with NuVasive (many others on the horizon), yet the Spine market posted strong growth in Q123 amidst the disruption.
Among the many topics covered in detail in SmartTRAK's comprehensive Q123 Spine Market Recap* are:
Complete Q123 Spine Market Overview
SmartTRAK's Expert Market Analysis and Insights
All Spine Companies' News, Revenues, Data, Charts and Market Shares
Top Players' Performance

JNJ/DePuy Synthes
Globus
NuVasive
Stryker

Q123 Spine Trends

M&A Activity
New Products
Reimbursement Dynamics

Regulatory Highlights
Europe Regulatory Updates
Clinical Study Progress
Orthofix and SeaSpine announced the completion of its merger in Q123 in which SeaSpine became a wholly owned subsidiary of Orthofix. In a recent note, Canaccord Genuity highlighted SeaSpine, 7D Surgical and Simplify as the most notable of the recent spine acquisitions. SmartTRAK agrees and notes that ...

Read the entire Q123 Spine Market Recap, including SmartTRAK's expert analysis, news, data, charts, revenues and shares*

*These links and the complete unedited article can only be viewed by SmartTRAK subscribers to this module. For more information on SmartTRAK, including how to receive a demo and subscribe, please click the button below.
---
SmartTRAK

is the Medtech industry's only global Insights-as-a-Service solution for the Orthopedics, Wound Care, Regenerative Medicine and Neuro Therapy markets. SmartTRAK's propriety methodology turns disparate data from hundreds of sources into powerful insights customers can rely on as the trusted source for strategic decision-making. The SmartTRAK enterprise platform includes rich daily updates, comprehensive market coverage and simple-to-use tools and dashboards for market, product and financial analysis. Customers leveraging the SmartTRAK platform also have direct access to market experts for inquiries and advisory services. If you would like a demo of what SmartTRAK has to offer and see how we can help increase proficiency, improve productivity and reduce costs for your company, just click here.