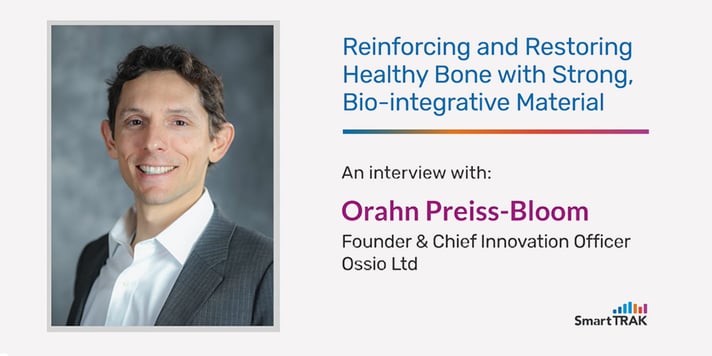 Orahn Preiss-Bloom, founder and Chief Innovation Officer of Ossio Ltd. discusses Osssio's advancements in innovations in the world of bio-integrative fixation devices.
In an interview with SmartTRAK, Orahn Preiss-Bloom, the founder and Chief Innovation Officer of Ossio Ltd, discusses how Ossio came to be, what makes their products different and where he sees the Company going in the future.
To find out more about Ossio, click on the following video to watch the interview (24:42 min). To download a complete transcript of the interview, click here. For more details, interview topics by timecode are provided below.
Interview Topics By Timecode
00:44 Orahn's background in the medical industry.
03:53 What differentiates the OSSIO product.
07:55 Initial uses for OSSIOfiber.
12:40 Overcoming surgeon objections to biointegrative materials.
15:13 Ossio education labs.
19:44 Ossio in sports medicine.
22:41 Surgeon concerns.
To download the complete transcript of the interview with Orahn Preiss-Bloom, Founder and Chief Innovation Officer of Ossio Ltd, just click the button below.
---
SmartTRAK
is the Medtech industry's only global Insights-as-a-Service solution for the Orthopedics, Wound Care, Regenerative Medicine and Neuro Therapy markets. SmartTRAK's propriety methodology turns disparate data from hundreds of sources into powerful insights customers can rely on as the trusted source for strategic decision-making. The
SmartTRAK
enterprise platform includes rich daily updates, comprehensive market coverage and simple-to-use tools and dashboards for market, product and financial analysis. Customers leveraging the
SmartTRAK
platform also have direct access to market experts for inquiries and advisory services. If you would like a demo of what
SmartTRAK
has to offer and see how we can help increase proficiency, improve productivity and reduce costs for your company, just click
here
.