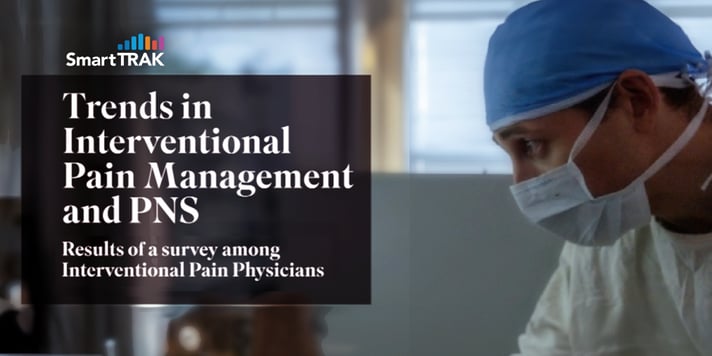 SmartTRAK's survey of interventional pain physicians reveals valuable insights into current and future trends in interventional pain management and peripheral nerve stimulation (PNS)
SmartTRAK recently conducted a survey of 30 interventional pain physicians, including 18 doctors who perform PNS, to gain insight into the current state of interventional pain management and identify future trends in the field. This includes physician use of SCS, DRG Stimulation, short- and long-term PNS, RFA, TDD, Regenerative Medicine injections and MIS spine procedures, with an emphasis on PNS companies and technologies.

This comprehensive study sheds light on procedure trends, preferred treatment approaches, physicians' perspectives on PNS and more!

Key questions include:
What interventional pain procedures are expected to grow the most in the next 12-24 months?
What minimally invasive spine procedures do physicians think will increase the most in the next few years?
What are expected procedure volumes for Regenerative Medicine injections?
What are the most preferred treatment approaches for different chronic pain conditions?
What are physicians' impressions of the different PNS technologies/brands?
What are the top targets for PNS and what's driving and limiting physician adoption of PNS?
What technology improvements do physicians want to see in PNS devices?
Click the button below if you are interested in purchasing SmartTRAK's Interventional Pain Management and Peripheral Nerve Stimulation Survey. Be The Expert with the latest insights and trends in the field and equip yourself with valuable knowledge. Click Now!
---
SmartTRAK is the Medtech industry's only global Insights-as-a-Service solution for the Orthopedics, Wound Care, Regenerative Medicine and Neuro Therapy markets. SmartTRAK's propriety methodology turns disparate data from hundreds of sources into powerful insights customers can rely on as the trusted source for strategic decision-making. The SmartTRAK enterprise platform includes rich daily updates, comprehensive market coverage and simple-to-use tools and dashboards for market, product and financial analysis. Customers leveraging the SmartTRAK platform also have direct access to market experts for inquiries and advisory services. If you would like a demo of what SmartTRAK has to offer and see how we can help increase proficiency, improve productivity and reduce costs for your company, just click here.