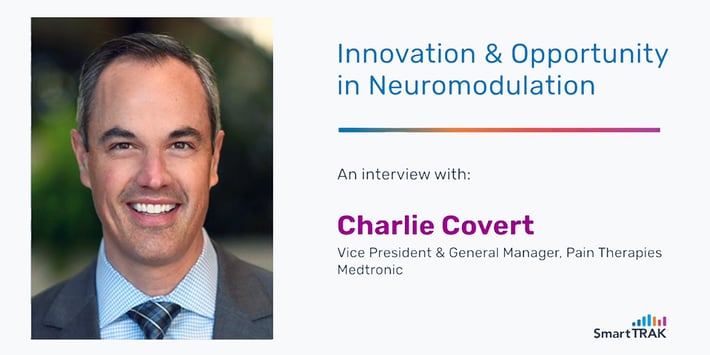 Charlie Covert, Medtronic's VP/GM of Pain Therapies, discusses the Company's neuromodulation news at NANS 2021 in an interview with SmartTRAK.
To find out about what was new for MDT at NANS 2021, including the 12-month results from MDT's DTM SCS study, its initiatives in evoked compound action potentials (ECAPs), the Vanta recharge-free SCS and MDT's research into expanded indications, click on the following video below to listen to SmartTRAK's interview with Charlie Covert recorded live via Uberconference (25:39 min). A complete transcript of the interview is also provided below.
Anne Staylor here with BioMedGPS. Today I'm talking with Charlie Covert, who is the vice president and general manager, Medtronic Pain Therapies. Hi Charlie, thanks for talking with me today.
Charlie Covert: You're welcome, Anne. How are you?
Doing well. Last time we talked was November 2020, not that long ago, but certainly it seems like a lot has happened since then. I think Medtronic had some of the most exciting news at this year's NANS and you surprised quite a few people with your closed-loop DTM SCS. I don't know if you know, I wrote an article a few years ago on exactly this, ECAPs and all the companies work--all the companies have patents in this area. So your announcement probably shouldn't have been too much of a surprise. But of course, as you know, right now in spinal cord stimulation companies are using mechanism of action as kind of a way to compete. They're saying their basic science is better than your basic science-type of competition. So I'm interested in finding out how Medtronic ECAPs SCS is different from what others have or proposing. Can you talk a little bit about exactly how that works and how it might differ from other companies' ECAPs?
CC: Yeah sure, Anne. Thanks for the question. And I appreciate the recognition. We had obviously a tremendous NANS, a lot of excitement around innovation therapy expansion in this space. Our recent announcement around ECAPs is just a great example of how we believe we can continue to move the space forward and frankly have a greater impact than what we've talked about in the past.
And that's the opportunity to treat more patients that are suffering from chronic pain. Maybe it would be helpful just to kind of summarize for the audience here, you may be familiar with it, but what ECAPs are. And then I'll talk a little bit about the distinction and how we're implementing this versus what you might've seen from others. ECAPs are signals that are generated by the spinal cord that are really a response to a stimulus in a direct measure of how the nerve fibers are activated within that spinal cord. So when we increase the stimulation or the output of the INS, we can increase the extent of the activation and what we call the ECAP amplitudes. So that's really how that stimulation is coupling to the spinal cord in that function. And what's interesting here is if you think back in the course of history, the way we've delivered therapy since about the late sixties hasn't really changed ...
To download the complete transcript of the "Innovation & Opportunity in Neuromodulation" interview with Charlie Covert , please click the button below.
---
SmartTRAK is a comprehensive, easy-to-use, business intelligence solution for the Life Sciences Industry that provides breaking updates on pertinent company news, potential treatments and guidance, international survey results, statistical analysis by country, studies, trial results, financial impact and more. All subscribers receive a Daily Updates email containing the latest need-to-know news curated by our expert analysts. It's the perfect way to start your day! If you would like to learn more about SmartTRAK, just click here.