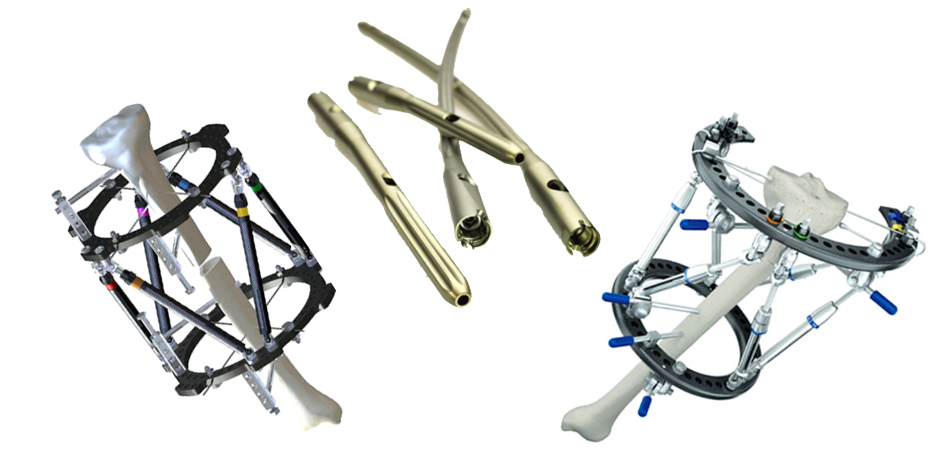 SmartTRAK's Trauma & Extremities Fixations Sr. Analyst Natasha Weeks identified several key product trends at the Orthopaedic Trauma Association's (OTA) 33rd Annual Meeting in Vancouver, BC Oct. 11-14, 2017, as manufacturers looked to differentiate themselves and gain share in the US Trauma market, projected to reach over $2.2B by 2021.
Trend #1: Expanding Indications Results in New Intros
Trauma Market leader DePuy Synthes (50% mkt share YTD) capitalized on the success of their TFN-Advanced Proximal Femoral Nailing System (TFNA) with the introduction of the TFNA Augmentation System at OTA. This new system incorporates the use of a polymethylmethacrylate (PMMA) cement that is injected into the femoral head via the cannulated TFNA blade or screw specifically targeting patients with poor bone quality to reduce the risk of cut-out. The Company is starting a US rollout of this 510k-cleared system and is touting biomechanical testing showing resistance to cut-out, along with early clinical results demonstrating zero cut-outs and no unexpected head element migration based on data from its EU counterpart, the Proximal Femoral Nail Antirotation (PFNA). The PMMA comes sterile packaged allowing surgeons the ability to make an intra-operative decision to inject the augmentation once the TFNA head element is in place. We anticipate the Company will utilize this concept with other product lines – such as plating systems around the distal femur and proximal tibia-- expect DePuy Synthes to come out with a Periprosthetic Fixation System in the next year.
The concept of combining fixation solutions, especially the use of biologics with hardware, is not a new one. At AAOS earlier this year, Zimmer Biomet (ZBH) introduced its N-Force Fixation System that integrates cannulated and/or fenestrated screws with a regenerative biologic to provide metaphysical void fill in the tibial plateau or femoral head. ZBH also showcased the N-Force system at OTA, but not nearly to the scale that market leader DePuy Synthes showcased their new release at the conference.
According to discussions on the OTA floor, Arthrex intends to seek expanded indications for the FiberTape suture line to include fixation of the shoulder, patella, sternum and other areas of the body as an alternative to cable systems. The Company has submitted testing to the FDA showing equivalence between FiberTape and cable. This could support a more efficient operating room (no crimping of cable systems), reduce patient irritation to cables and offer a more cost-effective solution as a cable with crimp can be upwards of four times as expensive as a suture. Offering a cheaper solution will help bolster suture sales as this soft tissue solution moves into the trauma & extremities world.
Trend #2: New Players Poised To Wake Up Sleepy Trauma Market
Two spine players made their way to OTA - NuVasive and Globus Medical . NuVasive was showcasing its limb lengthening systems, PRECICE and PRECICE UNYTE Nailing systems as a result of the Company's 2016 acquisition of Ellipse Technologies . While limb lengthening remains a niche market, NuVasive obtained expanded FDA indications for the PRECICE technology prior to OTA to include open and closed fracture fixation, pseudoarthrosis, malunions, nonunions and bone transport. The system has also been featured in recent studies over the last year:
While BioMedGPS does not break out the limb lengthening market, exhibit hall discussions during OTA do indicate that NuVasive will likely leverage this entry into the trauma market and expand beyond these nails with a trauma & extremities product portfolio.
Another prominent spine player at OTA, Globus Medical, was showcasing a full line of Trauma and Extremities products, including IM nailing systems as well as plates & screws. The Company offers the 510k-cleared Anthem Fracture Plating System, which includes plating for upper extremities, foot & ankle and trauma indications, and has the Anthem Wrist Plate available in limited release in the US. As of mid-October, surgeons had implanted the Wrist Plate in four to five cases in Philadelphia. During the Company's Q317 earnings call management confirmed Globus had received 510(k) clearance for an additional 5 trauma product lines with several more in review at the FDA. Trauma & Extremities products are anticipated to launch in Q118.
Smarter, Cost Effective Solutions Soar
At OTA new highlights in the external fixation segment include Stryker's newly launched Hoffman LRF Hexapod system which, along with the MaxFrame and TrueLok Hexapod System, has been taking market share from SNN 's Taylor Spatial Frame (TSF) as well as attracting new users due to their ease of use resulting in less OR time and user friendly software programs.
Once again DePuy Synthes had a big push behind its second new introduction at the meeting – the MaxFrame Hexapod System. This system touted a simplified workflow as a result of the new software program which, compared to the TSF's system, removes the manual nature of the planning process while generating greater accuracy. The Company hosted an industry symposium with Dr. Greg Osgood, Dr. Nicholas Quercetti III and longtime Distraction Osteogenesis Ring System (DO) surgeon-consultant turned MaxFrame-user Dr. Spence Reid, all of whom described their experiences utilizing the new hardware while praising the software program. DePuy Synthes also offered an "innovation booth" where surgeons could experience both of the Company's new intros – the MaxFrame and TFNA Augmentation.
On the flip side, Stryker's Hoffman LRF Hexapod system was present in an unassuming way at OTA. No big marketing push, or industry symposium behind the system. According to BioMedGPS discussions with management, the system is performing well and the Company is not only viewing this as gaining market share from SNN's TSF but as a market expansion opportunity due to the ease of use of the system. New users are starting to venture into the world of ring fixators/hexapods supporting the notation that if it's easy to use and can take less time than a prior iteration – surgeons will try it.