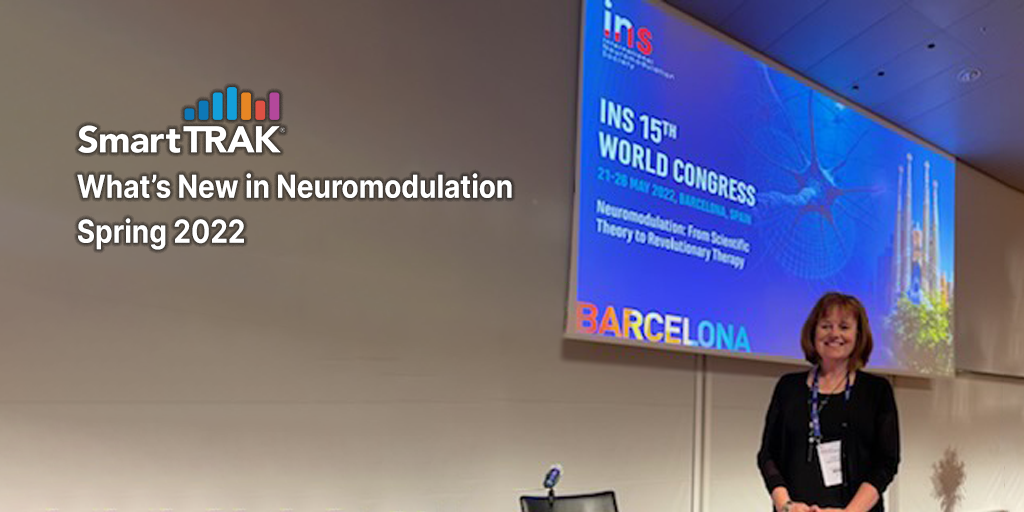 In the market for neuromodulation, companies are developing spinal cord stimulation (SCS), deep brain stimulation (DBS) and other stimulation devices designed to treat a vast range of indications. Current and emerging devices are addressing care gaps in the treatment of chronic pain and movement disorders as well as epilepsy, Tourette syndrome, depression, pelvic floor dysfunction, peripheral artery disease, paralysis and spinal cord injuries.

Companies competing in the market for neuromodulation include Abbott*, Boston Scientific*, Medtronic*, Nevro*, Saluda Medical*, Newronika* and Axonics, just to name a few. To keep you up to speed on what's new in neuromodulation, SmartTRAK highlights market updates covering clinical developments, patents, new research and other top news from Spring 2022.
SmartTRAK's Anne Staylor, Executive Editor, VP &GM of Neurotherapies, is in Barcelona attending the INS 15th Congress.
The following is just a small sampling of recent neuromodulation updates from around the world compiled, reviewed and posted daily by our SmartTRAK analysts.
Clinical Developments
Patents
New Research
Other Top News
*These links can only be viewed by SmartTRAK subscribers. For more information on how to receive a demo and subscribe, please click the button below.
---
SmartTRAK
is a comprehensive, easy-to-use, business intelligence solution for the Life Sciences Industry that provides breaking updates on pertinent company news, potential treatments and guidance, international survey results, statistical analysis by country, studies, trial results, financial impact and more. All subscribers receive a Daily Updates email containing the latest need-to-know news curated by our expert analysts. It's the perfect way to start your day! If you would like to learn more about SmartTRAK, just click
here
.