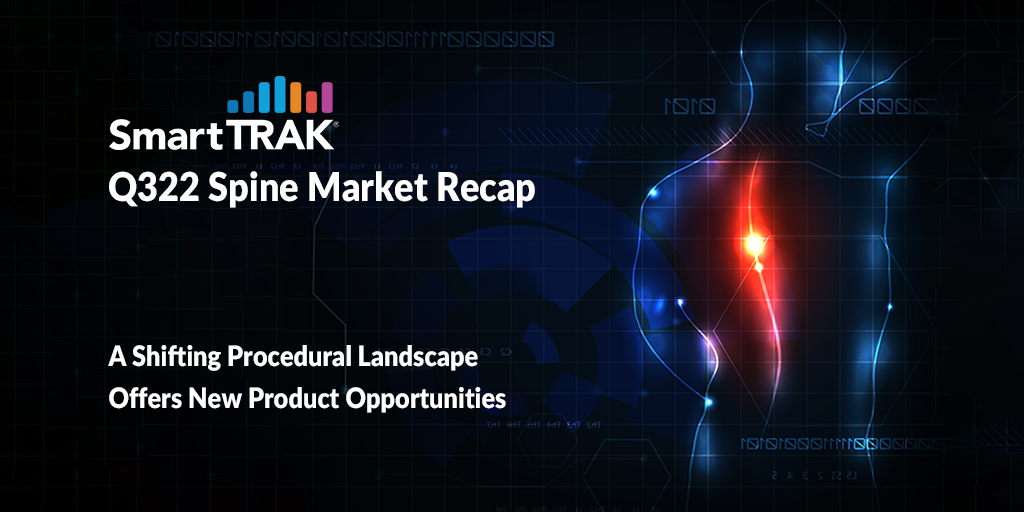 SmartTRAK reports that Q322 Spine Market performance drove a lack of consensus on operational performance metrics, while a shifting procedural landscape offered new product opportunities for small and mid-tier players, driving competitive pressure.
Among the many topics covered in detail in our comprehensive Q322 Spine Market Recap* are:
Complete Q322 Spine Market Overview and Highlights
SmartTRAK's Expert Market Analysis and Insights
All Company News, Revenues, Data, Charts and Shares
Top Player Performance
Lack of Consensus for Three Key Operational Performance Indicators
Competitive Pressure Continues to Pose Opportunity for Smaller Players to Gain Share
Q322 Spine Market Regulatory Highlights
With the procedural landscape shifting post COVID-19 and offering the opportunity to introduce new products to providers and clinicians by way of ASCs and other avenues, some of the key spine players are feeling the heat of competition and creating strategies to respond. JNJ* management stated that Q322 momentum gained from new product introductions was offset by competition and Stryker* noted that ...
Read the entire Q322 Spine Market Recap, including SmartTRAK's expert analysis, news, data, charts, company revenues and shares*
*These links and the complete unedited article can only be viewed by SmartTRAK subscribers to this module. For more information on SmartTRAK, including how to receive a demo and subscribe, please click the button below.
---
SmartTRAK is a comprehensive, easy-to-use, business intelligence solution for the Life Sciences Industry that provides breaking updates on pertinent company news, potential treatments and guidance, international survey results, statistical analysis by country, studies, trial results, financial impact and more. All subscribers receive a Daily Updates email containing the latest need-to-know news curated by our expert analysts. It's the perfect way to start your day! If you would like to learn more about SmartTRAK, just click here.