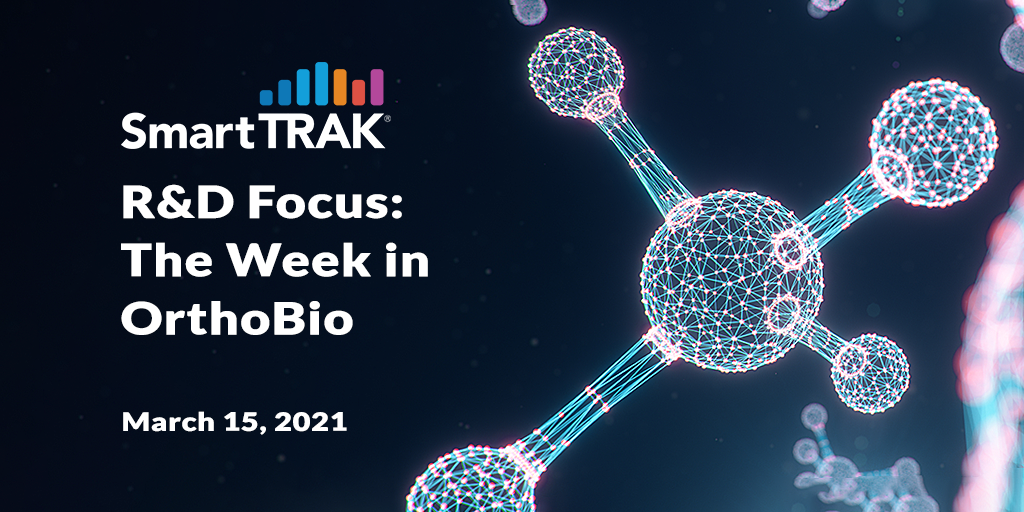 As the Covid-19 pandemic continues its unprecedented impact on economies around the world, the MedTech industry presses on with product innovation and plans for the future. SmartTRAK reports daily on the challenges still ahead, covering all aspects of the OrthoBio market.

The following is just a small sampling of recent OrthoBio updates from around the world compiled, reviewed and posted in real time by our SmartTRAK analysts. We constantly monitor the worldwide MedTech industry, sifting through the noise to present to our subscribers the most relevant international news, patents, trends, new products, financial data and competitor developments in the global Life Sciences industry.

As part of SmartTRAK's R&D appreciation month, Research & Development professionals can now sign up for a Complimentary Month of Daily Updates delivered straight to your inbox. Just let us show you SmartTRAK and we'll give you a month of Daily Updates, delivered to your inbox, for FREE!
Patents:
Cellular Matrix
Fujifilm's US Patent "Cell structure and method for producing cell structure" was

granted

relating to a cell structure which can be produced w/in a short period of time. The cell structure includes a biocompatible macromolecular block and two or more kinds of cells.

10,898,612



Tissue Regeneration
US Patent "Method for preparing bilayer scaffold through single process and method for regenerating tissue using bilayer scaffold obtained by preparing method" was granted. 10,864,300

New Products
:
MTF*
Kolosis BIO

, LLC (Kolosis)

announced

, in collaboration w/ MTF Biologics, the market release of

Kore Fiber*

, an aseptically processed, 100% demineralized cortical fiber allograft exclusively for Kolosis. Kore Fiber is available in 4 sizes of moldable fiber and 3 sizes of strips

Osteopore*
Osteopore, in collaboration w/ Maastricht University, have developed a bioresorbable 3D printed cage to prevent leg amputations in pts w/ severe lower leg fractures. The 3D printed cage has been implanted in its first pt in the Netherlands.
Studies:

Review on Clinical Outcomes of Bone Marrow Stimulation
A review of 5 studies w/ 70 pts

found

the overall success rate of arthroscopic bone marrow stimulation (BMS) for nonprimary osteochondral lesions of the talus (OLT) was 61%, incl a 27% revision rate & good-fair results for return to sports, work & complication outcomes.

Cartilage


nStride*

-

Zimmer Biomet*
An

in-vitro study

evaluating

APS on chondrogenic differentiation of BMSCs and ADSCs found APS triggered type I collagen deposition and helped decrease the expression of MMP. ADSCs originated micromasses more mature and less prone toward osteogenic lineage than BMSCs.

Cartilage



Midterm Outcomes for Synthetic Meniscus Implant
A study w/ 14 pts who underwent a polyurethane meniscal scaffold implantation reported outcomes Lysholm i62.4 to 80.2,, KOOS 68.9 to 80 and VAS for 5.3 to 3.1. Average post-op IKDC score was 67.7. There were 8 cases of complete extrusion and 3 showed rupture. JCOT
Deals/Financing:
Mesoblast*
Mesoblast

announced

successful completion & settlement of ~$110MM (AUD 138MM) raised via the issue of 60MM shares at ~$1.83 (AUD 2.30)/share, led by a strategic US investor group. Funds will support corporate activities focused on the rexlemestrocel-L and remestemcel-L platforms


MagnetOs*

-

Kuros*
Kuros has

signed

sales and distribution agreements for MagnetOs bone graft, covering the Netherlands, Switzerland, Austria and Finland. These add to an existing agreement in the UK and Ireland.


Clinical/Regulatory:
Stroke Rehab With Functional Electrical Stimulation
A 4-week randomized crossover trial (n=20) will compare stroke rehab with vs without functional electrical stimulation delivered by Bioness L300. Primary outcome: improved somatosensory evoked potentials. Primary completion 8/2022, study completion 12/2022. clinicaltrials.gov



DBS For Severe Intractable Epilepsy


A retrospective 10-pt cohort study is assessing DBS for the anterior thalamic nucleus via microendoscopy in patients with severe intractable epilepsy. Primary outcome: Absence of hemorrhagic complication on postop MRI. Study completion 12/21. clinicaltrials.gov


Noninvasive VNS for Patients with Sepsis
A randomized pilot study (n=30) will evaluate noninvasive VNS with TENS eco Plus (made by German company schwa-medico) as adjuvant treatment for critically ill patients with sepsis. Control group will receive earlobe stim. Primary outcome: 90-day mortality. Completion 2/23. clinicaltrials.gov
Markets:
Zimmer Biomet*
Needham analysts note that mgmt is committed to reaching ~4-5% revenue growth and a ~30% operating margin for the NewCo Spine & Dental spin-off by the end of 2023. The spin-off is expected to be completed by mid-2022.


Anika*
On long-term projections, ANIK mgmt noted COVID has pushed CINGAL & HYALOFAST US launch timelines past 2024 and that incremental revenue following US approval is not currently in their model or necessary to double revenue by 2024.

ANIK Q420 Earnings Transcript

on

Seeking Alpha


Alphatec*
Chairman & Ceo, Patrick Miles pointed out that 95% of sales are driven by ATEC's strategic channel and 47% of the revenue growth comes from that distribution group, w/ that growth in US revenue/distributor has been significant.

ATEC Q420 Earnings Transcript

on

Seeking Alpha
Revenues:
MiMedx Group

For 2021, MDXG expects adjusted net sales will grow +10% YoY unless MDGX is required to take its micronized, particulate and umbilical cord products off the market if FDA determines the products do not qualify as HCT/Ps solely under Section 361 of the Public Health Service Act.

Anika
ANIK mgmt noted Joint Preservation/Restoration Q420 revenue of $13.1MM is up $12.6MM YoY primarily due to the acquisitions. Sequentially, revenue was +12% from Q320 despite COVID spikes & winter storms late Q420/early Q121.

Q420 ANIK Earnings Transcript

on

Seeking Alpha


Alphatec
For Q420, ATEC's management noted that along w/ US revenue growth of +38% YoY, ATEC saw +15% YoY growth in revenue/surgeon driven by the adoption of new products and that 75% of ATEC's revenue came from new products.

ATEC Q420 Earnings Transcript

on

Seeking Alpha
*These links can only be viewed by SmartTRAK subscribers. If you would like to receive a FREE month of R&D Daily Updates from SmartTRAK just click the button below.
---
SmartTRAK is a comprehensive, easy-to-use, business intelligence solution for the Life Sciences Industry that provides breaking updates on pertinent company news, potential treatments and guidance, international survey results, statistical analysis by country, studies, trial results, financial impact and more. All subscribers receive a Daily Updates email containing the latest need-to-know news curated by our expert analysts. It's the perfect way to start your day! If you would like to learn more about SmartTRAK, just click here.