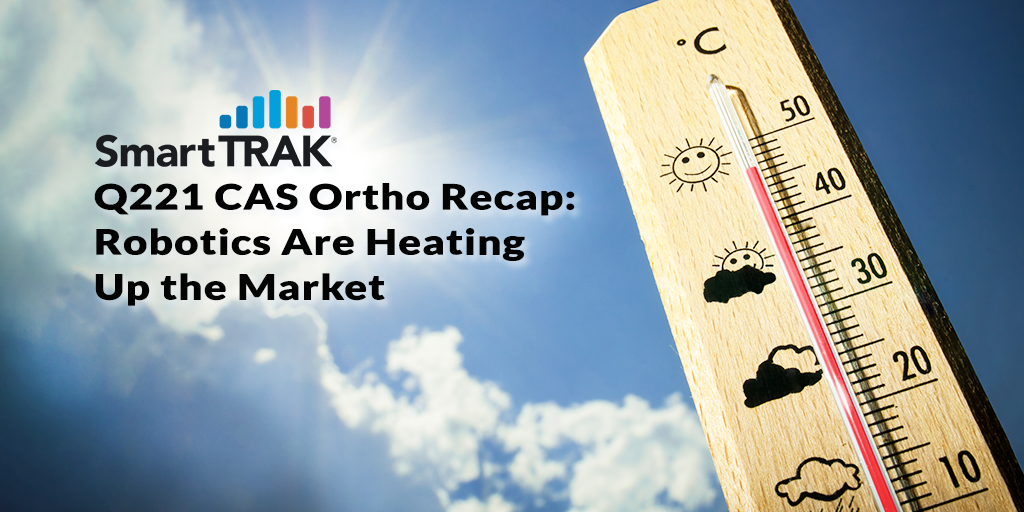 Robotics continued to help fuel growth in orthopedics in Q221 as new products and companies heat up the market and enabling technologies gain momentum across TJR.
Once again, robotics contributed to revenue growth in the orthopedics market in Q221 and competition continues to heat up with several regulatory clearances and other developments from new market entrants in the quarter. Aside from robotics, enabling technology including intra-operative augmented reality, preoperative planning and navigation reached a number of milestones in Q221 across all indications in total joint replacement.
Among the many topics, including company revenues, market shares, charts and expert analysis, covered in the comprehensive Q221 CAS Ortho Market Recap* are:
Complete Q221 CAS Ortho Market Highlights
Robots Continue to Contribute to Revenue Growth in Q2
Robotic Competition Heating Up with Recent Regulatory Milestones and Further Development
Intraoperative Augmented Reality Making Inroads into Orthopedics
Developments in Preoperative Planning and Navigation in Hip Arthroplasty
Enabling Technology in Shoulder Arthroplasty
The Q221 WW CAS Ortho market was up, as was the US ortho robotics market, according to SmartTRAK Financial Dashboard. Stryker (SYK) remained the market leader with ~75% share, followed by Smith & Nephew (SNN), Zimmer Biomet (ZBH) and other enabling tech competitors. For more detailed Q221 revenues and shares by company in the US, EU and ROW, see SmartTRAK CAS Ortho Financial Dashboard ...
Read the entire Q221 CAS Ortho Market Recap including news, data, charts, company revenues, shares and analysis*
*The entire article, including revenue, shares and links can only be viewed by SmartTRAK subscribers to this module. For more information on how to receive a demo and subscribe, please click the button below.
---
SmartTRAK
is a comprehensive, easy-to-use, business intelligence solution that networks an entire organization with real-time market data and analysis. Used by the 15 top Advanced Wound Care companies and 8 of the 10 top Orthopedic companies, SmartTRAK transforms the delivery of healthcare business information into a cost-effective solution for life science corporations to increase proficiency, improve productivity and reduce cost.