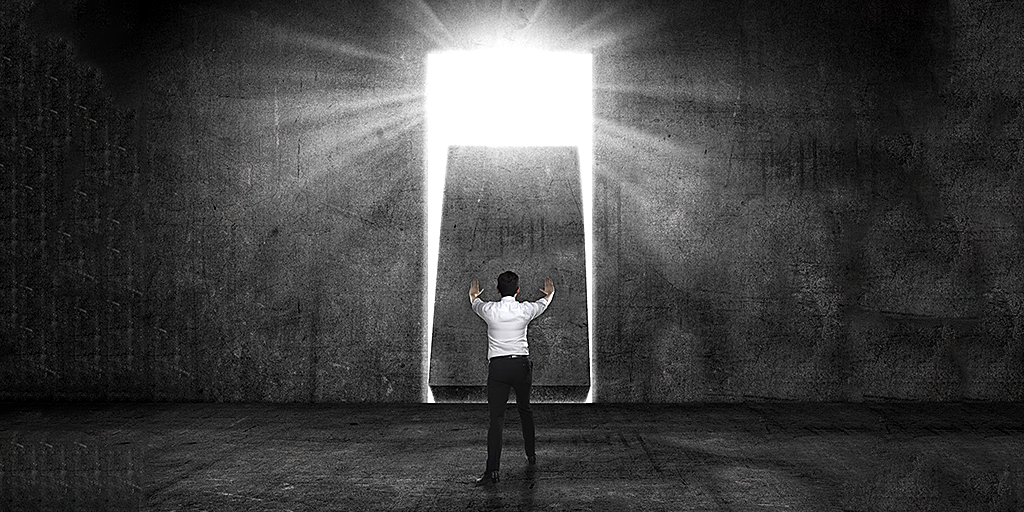 Despite the uncertainty of COVID-19, Skin Substitutes (CTPs) continue to push the boundaries in Advanced Wound Care with impressive clinical studies, new products and technologies, and changing market dynamics.
Despite the unpredictability of COVID-19, skin substitutes (CTPs – cellular and/or tissue-based products) continue to be a hot area of research, innovation and investment in the market for Advanced Wound Care (AWC). This segment is comprised of an assortment of products, including human dermal allografts, amniotic tissue allografts, xenografts, cell-based bioengineered and most recently synthetic type products. Wounds most often treated with these products include diabetic foot ulcers, venous leg ulcers, pressure ulcers, challenging surgical wounds, trauma wounds and burns. In addition, these wounds are treated in a variety of settings that include the hospital outpatient department (HOPD) wound clinic, physician office, surgical suite and burn center. In the following article, SmartTRAK reviews the latest news on skin substitutes (CTPs) from SAWC Spring 2020 and provides an update on investment activities as well as reimbursement and market trends amid COVID-19.
Market Leaders at SAWC
SAWC Spring 2020, held as a virtual conference, had companies large and small showcasing the latest research and innovation in skin substitutes (CTPs) while providing a glimpse of what's next in this space. Although industry attendance was down significantly in 2020, with only 30% of companies exhibiting compared to 2019, it is clear market leaders are pushing the boundaries with continued investments in skin substitutes (CTPs), a market valued at over $1B in 2019. Market leaders and up and coming companies both competed for clinician attention at the conference while some other companies chose not to participate.
Organogenesis*, the new market leader according to SmartTRAK Financial Dashboard, touted its broad portfolio of skin substitutes (CTPs) stating they have the products to treat patients "head to toe" with numerous clinical studies to support their claim. As PuraPly AM* comes off pass-through status at the end of September, perhaps one of the most important studies presented at SAWC for the future viability of the product was the 307-patient RESPOND study in which PuraPly AM was applied to a variety of hard-to-heal wounds. The study found for all wounds, the median time to and frequency of wound closure was 2 months and 50%, respectively. The proportions of wounds closed for venous leg ulcers (VLUs), diabetic foot ulcers (DFUs), pressure ulcers (PrUs) and post-surgical wounds (PSWs) were 52%, 45%, 36% and 54%, respectively. Poster SAWC 2020 Virtual CR-032
A retrospective analysis of Apligraf*, a legacy product in their portfolio, and an acellular fetal bovine collagen dressing in the treatment of VLUs and PrUs found Apligraf having reduced wound closure times over the bovine based product. (SAWC 2020 Virtual GR-11 and CR-004) Rounding out the Company's portfolio, researchers presented a poster on recently relaunched Affinity*, a hypothermically stored human amniotic membrane, which Organogenesis is planning to use to replace lost PuraPly AM revenue. The 76-patient clinical study comparing Affinity (HSAM) to standard of care (SOC) in the treatment of DFUs found wound closure with Affinity was significantly greater than SOC at 12 weeks (55% vs. 29%; p=0.02) and 16 weeks (58% vs. 29%; p=0.01). SAWC 2020 Virtual GR-02
Smith + Nephew* focused their discussions on their key amniotic tissue-based products: Grafix*, Grafix PL* and Stravix*. A study of 104 wounds (92 patients) in which either GrafixPRIME*, GrafixCORE or a combination of the two were used to treat non-healing upper and lower extremity wounds found 83.7% of wounds closed within 41 days with three applications of the product and that there was no significant difference in healing rates of the products used. SAWC 2020 Virtual CR-013
A special emphasis was given to Grafix PL which utilizes the Prestige Lyotechnology (PL) to preserve the tissue allowing the cells to remain viable and providing storage at room temperature. Data was presented on the 78-patient (98 wounds) clinical study in which Grafix PL was used on a variety of wounds with wound closure rates of 59.2% with median closure within 63 days. In addition, researchers presented a case series on Stravix use on soft tissue defects in which patients' length of stay was reduced from an average of 31 days to nine days after treatment with Stravix.
MiMedx, the former market leader - now in second place, was not as aggressive in attracting clinicians as at previous live conferences. The Company did have a virtual booth but did not present any significant new clinical data nor did they do an Industry Supported Symposia or an Innovation Theater presentation. At their virtual exhibit, they included the Clinical and Scientific Monographs for both EpiFix* and EpiCord* which included explanations of the technology and a summary of all key clinical studies. Big news since SAWC was the launch of EpiCord Expandable, an allograft that covers up to twice the surface area of EpiCord once expanded, providing an additional option to clinicians in supporting their patients having larger, chronic, and hard-to-heal wounds.
Key players choosing not to virtually exhibit at the meeting, despite previously having a strong presence at the live conferences, included Integra*, ACell*, Misonix/Solsys Medical* and MTF*. Although ACell did not have a virtual booth, they did have an Industry Symposia.
Other Notable Items at SAWC
Amniox* featured its work on TTAX01, the GMP developed version of Neox 1K*, in an Innovation Theater presentation. The Company presented results of its Phase II, pilot study of 32 patients having Wagner grade 3 or 4 DFUs in which TTAX01 was applied an average of 1.5 times and had wound closure rates of 63.2% and 78.6%, respectively at 12 weeks in the intent to treat population and per-protocol populations. The Company explained the rationale behind pursuing an IND on the product, the desire to submit a BLA to meet the proposed new HCT/P guidelines and their plans for the first of two Phase III trials, with the first expected to enroll 220 patients. TTAX01 is the first biologic product to seek FDA indication approval for the treatment of complex DFUs, should Amniox obtain the BLA for TTAX01 it will have a unique and advantageous place in the market.
Aroa Biosurgery* introduced Myriad*, an engineered extracellular matrix for soft tissue repair, reinforcement and complex wounds – primarily to be used in the OR - in a presentation at SAWC 2020 Virtual.
Although MTF did not have a booth, in the Wound Healing Society's Wound Shark Innovation Competition, MTF presented its patented Leneva* – Allograft Adipose Matrix, a human adipose-derived ECM for tissue reconstruction, with one application being fat pad atrophy useful for DFUs in reducing ulcer recurrence.
Recent IPO Filings and Fundings Tell a Story
Companies with skin substitute products that have or plan to raise money through public offerings, demonstrating continued interest and investment in the skin substitute (CTP) market, include Aroa Biosurgery and ACell.
In July 2020, Aroa Biosurgery Ltd ('ARX') raised ~$30MM (45MM NZD) in a public offering. Aroa Biosurgery product revenue reached~$14.8MM ($21.9MM NZD) in FY20 (ending March). Today Aroa's primary product sold in the wound care market is EndoForm* and EndoForm Antimicrobial, an ECM derived from ovine forestomach, sold in the US as a collagen dressing. However, as mentioned earlier in the article, they announced the launch of Myriad at SAWC to support the treatment of complex wounds in the OR setting.
In July, ACell began a roadshow for the initial public offering of its common stock but quickly postponed it, with a goal of raising $75MM. ACell revenue reached $100.8MM in 2019, an increase of 13.0% over 2018. For 2019, ACell reported healthy revenue growth for its two main wound products: MicroMatrix* and Cytal*. MicroMatrix's revenue was $46.4MM, up 17.5% YoY, and Cytal's revenue was $32.0MM, up +18.6% YoY. ACell noted in its IPO filing that its US revenue is generated through a dedicated, surgically focused direct sales force of over 160 employees that sell into hospital operating rooms and intensive care units.
In addition to IPO filings, Kerecis* successfully raised $21MM through a revolving line of credit of up to $15MM provided by Silicon Valley Bank, and the company's leading investors and other lenders have provided the company an additional $6MM. Funds will be used to support its US expansion plans.
Advances in Coding and Reimbursement
The first step in obtaining HOPD reimbursement for a skin substitute (CTP) is establishment of a HCPCS Q code. CMS issued 21 new HCPCS Q codes effective July 2020 and an additional four codes effective Oct 2020 for skin substitutes in which all but one is derived from amniotic membrane, umbilical cord or Wharton's Jelly. In addition, nine are either provided by cc (cubic centimeter) or mg (milligram), which are not currently reimbursed by CMS. See Figure 1 for the New HCPCS Q codes Effective in 2020.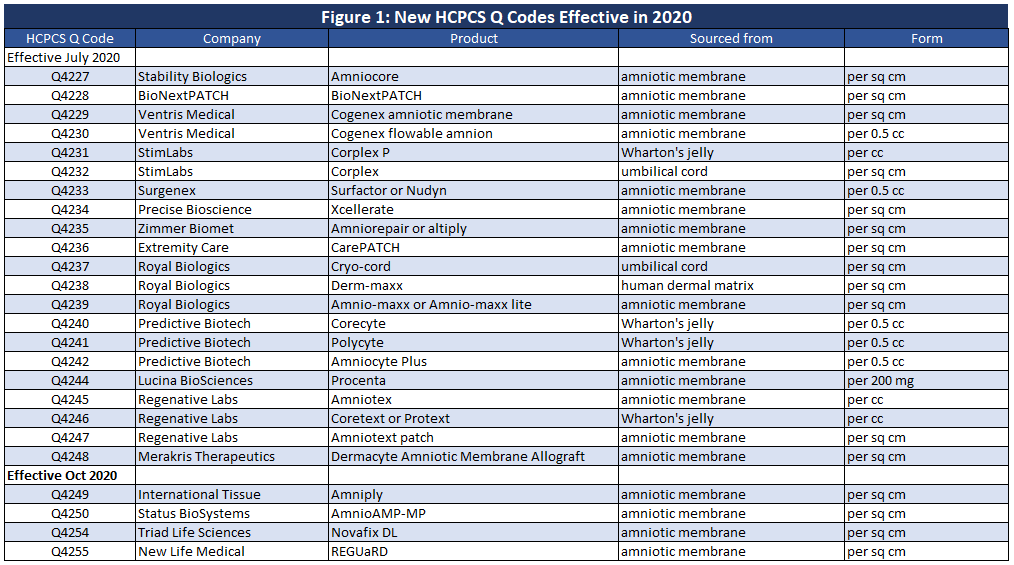 A big step for CMS was the establishment of a code "C1849 – Skin substitute, synthetic, resorbable, per square centimeter." Products that will benefit from the establishment of this code include:
PolyNovo's* NovoSorb BTM, a resorbable polyurethane scaffold
RenovoDerm's* Phoenix Wound Matrix, a resorbable 3-D matrix comprised of poly(lactide-co-caprolactone) and polyglycolic acid fibers
Acera Surgical's* Restrata, a resorbable matrix of polyglactin 910 (PGLA) and polydioxanone (PDO) fibers
Results YTD with COVID and Expectations for H220
The Skin Substitute (CTP) market has seen a wide variation in performance since the onset of COVID-19. With Q220 being impacted most significantly, some companies reported impressive gains while others experienced significant headwinds. Organogenesis' revenue was up +8% while, MiMedx Wound was down -15% and Integra experienced deeper declines of -25% according to SmartTRAK estimates. Much of this variation was related to the site-of-care in which the products are used. With hospital outpatient department (HOPD) wound clinics closing at the onset on COVID-19, cancellation of elective procedures and reduced trauma and burn injuries due to lockdown, companies focusing on these areas were hit the hardest. The majority of Integra's skin substitute products are sold into the surgical suite which was negatively impacted by the reduction in surgical procedures and by the reduced incidence of trauma and burns cases. MiMedx, which has less exposure in the surgical suite was less impacted. Organogenesis which had been focused on the HOPD wound clinic quickly pivoted to the physician office and saw revenues increase. During a call with BTIG, Organogenesis management confirmed that the Company's investment in the office setting has paid off, with 43% of AWC revenue coming from offices during Q220, up from 18% at the beginning of the year. It appears the market is slowly recovering as both Integra and Misonix reported that for the month of June wound business was improving with declines of only -10% and Organogenesis reported YoY increases.
The Skin Substitute (CTP) market has experienced healthy gains, increasing in double-digits since 2015 according to SmartTRAK Financial Dashboard. (See Figure 2) SmartTRAK analysis of H120 found skin substitute (CTP) revenue decreased -4.6% to $492.2MM, negatively impacted by COVID-19. Assuming that recovery in the market continues and there are no major setbacks, SmartTRAK estimates Q320 revenue to be flat year over year and Q420 to have a slight uptick, bringing revenue for skin substitutes (CTPs) up in the low single-digits for 2020.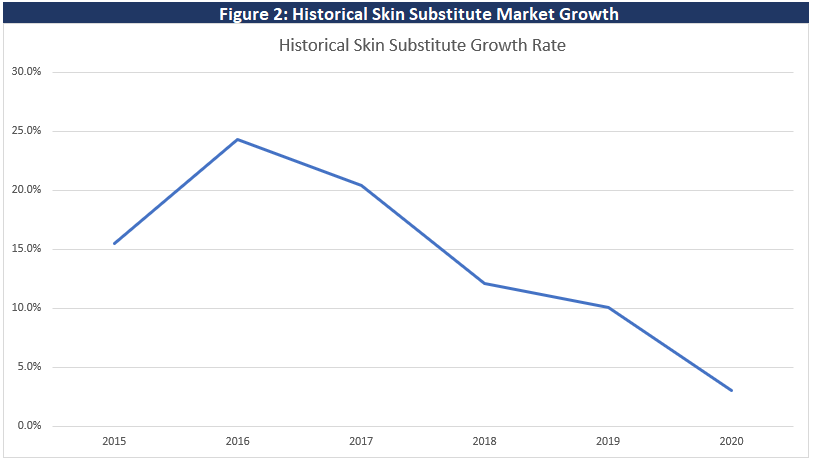 *These links can only be viewed by SmartTRAK subscribers to this module. For more information on how to receive a demo and subscribe, please click here.
Earlier this year, Susan conducted a fascinating interview for SmartTRAK discussing a new biomaterials opportunity for medical devices with Michael Ziebell, President and CEO of trū Shrimp. To download a transcript of that interview, just click the button below
---
SmartTRAK is a comprehensive, easy-to-use, business intelligence solution that networks an entire organization with real-time market data and analysis. Used by the 8 of the top 10 orthopedic companies and by 15 of the top 15 advanced wound care companies, SmartTRAK transforms the delivery of healthcare business information into a cost-effective solution for life science corporations to increase proficiency, improve productivity and reduce cost.