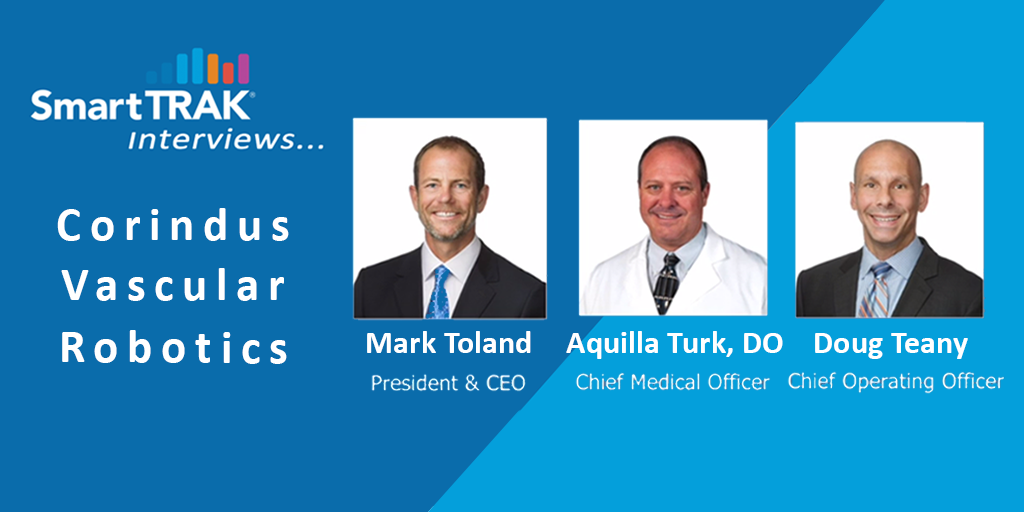 Executives from Corindus Vascular Robotics discuss the Company's plans and strategies for improving stroke care in an interview with SmartTRAK at SNIS 2019
Although Corindus Vascular Robotics is known more for playing in the cardiovascular space, the Company is now leveraging its expertise in vascular robotics to expand into neurovascular applications and telerobotics with the goal of improving access to comprehensive stroke care. The Company's CorPath GRX System received FDA clearance for percutaneous coronary interventions in 2016 and for peripheral vascular interventions in 2018. Since then, the CorPath GRX has received ... regulatory approval for neurovascular applications in Europe, Australia and New Zealand and the Company has submitted it for FDA 510(k) clearance in the US. Although CorPath GRX does not currently have clearance for remote telepresence, first-in-human testing has been promising, and Corindus plans to seek regulatory approval for remote telepresence in the next few years. Corindus believes this capability will enable robotic neurovascular procedures in a hub and spoke model where neurointerventionalists can perform mechanical thrombectomy remotely for hospitals that do not have the capabilities to perform these procedures.
To find out more about the Company's CorPath GRX vascular robotics platform, expansion into neurovascular interventions, and using robotics to improve access to comprehensive stroke care, SmartTRAK talked with executives from Corindus Vascular Robotics at the Society of Neurointerventional Surgery (SNIS) meeting held in Miami Beach, FL July 22-25, 2019.
Click on the following video to listen to SmartTRAK's interview with Corindus President and CEO Mark Toland, Chief Medical Officer Aquilla "Quill" Turk, DO and Chief Operating Officer Doug Teany recorded live at SNIS. (31:13 minutes)
A topic outline of the video by timecode is provided below. Click here to download a complete transcript of the interview.
*Note: Shortly after the interview Corindus announced on August 8, 2019 that it entered into a definitive merger agreement to be acquired by Siemens Healthineers AG under its wholly-owned subsidiary Siemens Medical Solutions for an aggregate purchase price of ~$1.1 B. The Corindus/Siemens deal is expected to close in Q419.
Interview Outline by Timecode:
00:40 Why use robotics in neurovascular? The company and physician perspective on neurovascular robotics, including the unmet clinical need in stroke care.
05:20 Discussion about the robot itself, how it works, advantages, potential applications, current development status, research to date and market potential.
11:18 Drivers and limiters of the technology, status of remote telepresence, OUS regulatory approvals and experience, safety and physician training, and cost of the technology.
18:03 Outcomes and driving growth via access to care, development strategy and intellectual property strategy, use of navigation and artificial intelligence, potential regulatory timelines around next generation technologies/telepresence, and research plans, including first-in-human studies for remote telepresence.
25:56 Set up times for the robot , its impact on remote procedures and time to access care, use in various access sites, including transradial, and the foot print of the robot relative to other robotic systems.
30:13 What's next for the company, including priorities and challenges in bringing a neurovascular robot to market with telerobotic capabilities.
---
To download a complete transcript of the interview, please click the button below.