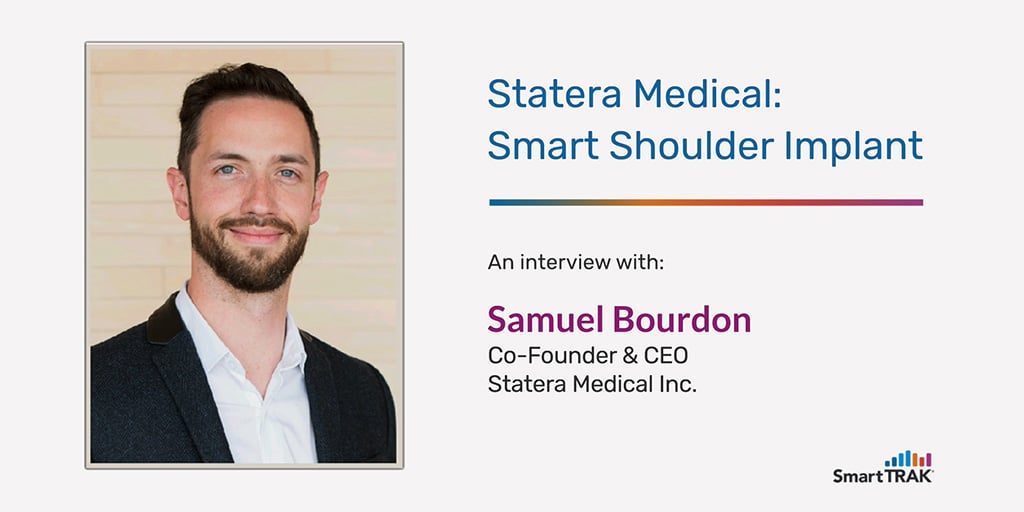 Samuel Bourdon, Co-Founder and Chief Executive Officer of Statera Medical discusses Statera Medical's development of a smart shoulder implant.
In an interview with SmartTRAK, Samuel Bourdon, the Co-Founder and Chief Executive Officer of Statera Medical, discusses how Statera Medical came to be, why their focused on creating a smart implant for the shoulder arthroplasty market and where he sees the Company going in the future.
To find out more, including the design rationale behind Statera's smart shoulder ecosystem and how Statera fits in the shoulder arthroplasty market, click on the following video to listen to the full interview (29:25). If you would like to download the complete transcript of the interview, click here.

SmartTRAK: Hey guys, this is Nick with SmartTRAK. I'm here with Samuel Bourdon, CEO and founder of Statera Medical. I appreciate you joining me this morning and doing this interview. Samuel, can you give us an introduction about your yourself and a brief background of your experience in the orthopedics industry?

Samuel Bourdon: I'm a mechanical engineer by training. I have worked in product development since 2012 and mostly in the aerospace and recreational product. And when I turned 30, I quit my job and decided to go back to school to do a full-time master degree in biomedical engineering. And then I managed to do a master in business administration part-time during the same period. So before Statera Medical I had no experience in orthopedic industry at all, so it's a first time for me.
That's definitely monumental. Why'd you switch from aerospace to biomedical?
SB: Yeah, I just hit a bigger why in my career and I wanted to put a human at the center of it, so that's what made me took that decision.
Where did you get your master's in biomed from?
SB: From Polytechnique Montreal. It's the same university I got my mechanical engineer degree.
Let's dive into the company that you founded, Statera Medical. So what was the inspiration behind founding Statera Medical, and what's your mission statement behind it?
SB: What happened is I met another engineer and an orthopedic surgeon, and it was really all about reducing complication rates and improving patient outcomes, which ultimately results in ...
To download the complete transcript of SmartTRAK's interview with Samuel Bourdon, the Co-Founder and CEO of Statera Medical, just click the button below.
---
SmartTRAK
is the Medtech industry's only global Insights-as-a-Service solution for the Orthopedics, Wound Care, Regenerative Medicine and Neuro Therapy markets.
SmartTRAK
's propriety methodology turns disparate data from hundreds of sources into powerful insights customers can rely on as the trusted source for strategic decision-making. The
SmartTRAK
enterprise platform includes rich daily updates, comprehensive market coverage and simple-to-use tools and dashboards for market, product and financial analysis. Customers leveraging the
SmartTRAK
platform also have direct access to market experts for inquiries and advisory services. If you would like a demo of what
SmartTRAK
has to offer and see how we can help increase proficiency, improve productivity and reduce costs for your company, just click
here
.