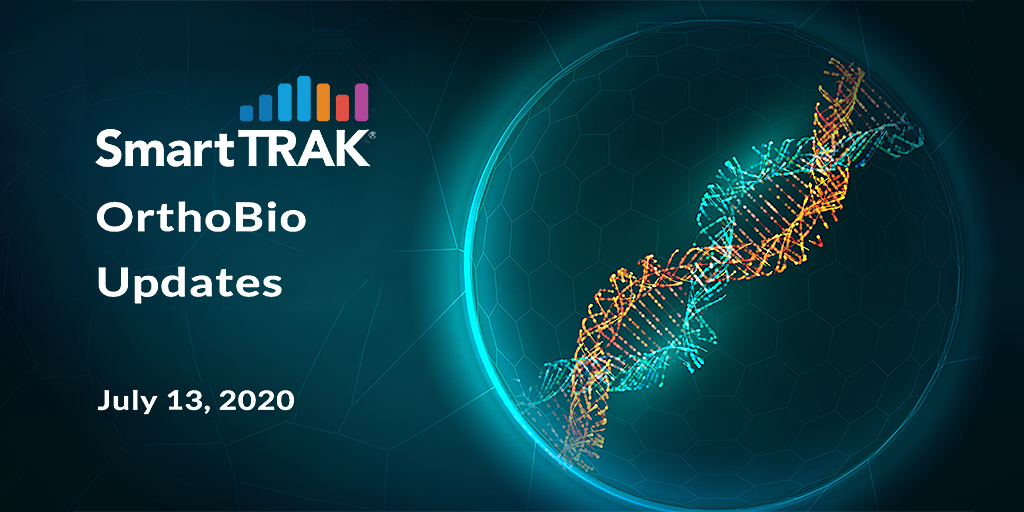 The orthobiologics market continues to ramp up studies and new product development as surgeries impacted by COVID-19 are rescheduled. The following is a small sampling of the OrthoBio updates compiled, reviewed and posted in real time last week by our SmartTRAK analysts. We constantly monitor the worldwide MedTech industry, sifting through the noise to present to our subscribers the most relevant international news, trends, financial data and competitor developments in the global Life Sciences industry.
KAPPA Opiod - Possible DMOAD?
KECK Medicine of USC has published a preclinical study demonstrating the potential of a new opioid medication that may slow OA progression while being less addictive. The therapy MOA is kappa opioid receptor (KOR) modulation via inhibition of hedgehog signaling. Arthritis Rheum
Association of SNPs in MMPs Genes and Knee OA
A 200-pt prospective, case-control study is underway to assess if the presence of gene polymorphisms (1575 G/A MMP-2, 836 A/G MMP-9 and -77 A/G MMP-13) in the metalloproteinases (MMPs) affect the risk of developing idiopathic kOA in the Greek population. clinicaltrials.gov
National Rates and Risk Factors of Failed Primary RCR
An insurance database review w/ 41,467 primary RCR pts (41,844 shoulders) showed 52.7% male, 60-69 yrs of age most prevalent (~38%) and 8.38% revision rate. Revision risk factors were increasing age, male sex, smoking, obesity, hyperlipidemia and vitamin D deficiency. Arthroscopy
Revision of Failed First Metatarsophalangeal Joint Implant
This article reviews the challenges of revision surgery and the conversion from implants to arthrodesis, emphasizing the need for bone grafting for optimal results. Clinics in Podiatric Med & Surg
Biologically Enchanced Patch Augmentation
According to a 22-pt study, only 41% of pts undergoing biologically enhanced (PRP and BMAC) patch augmentation RC repair reached substantial clinical benefit, whereas 32% reached or exceeded the PASS criteria. Arthroscopy
In Q120, Aurora Spine finalized product designs for a Posterior SI Joint fusion product made from SILO (cortical allograft) and the ZIP-Flex interlamar fixation device. The product is expected to hit the market later this year or 2021.
Reoperation Rates following Meniscus Transplantation
A claims database review of 284 pts who underwent MAT reported 167 pts (58.8%) underwent reoperation at an average of 11.9 mos post-op. UKA and TKA conversion rates were 0.7% and 1.1%, respectively. The overall 30-day complication rate following MAT was 1.4%. Arthroscopy
Synthetic Bone
US Patent "Synthetic block intended for filling in a bone defect and method for manufacturing same" was granted. 10,639,156
MiMedx announced that as part of the private equity financing, EW Healthcare Partners has designated Managing Director & Co-Founder Martin Sutter and former Medtronic Chairman & CEO William Hawkins III to serve on MiMedx's board as preferred Directors.
Medial Patellofemoral Ligament Reconstruction
A 30-pt study is underway to evaluate arthroscopic double-beam anatomical reconstruction of the medial patellofemoral ligament for recurrent patellar dislocation. The anticipated completion date is 12/1/22. clinicaltrials.gov
Bone Grafting Options in Foot and Ankle
Union rates vary for arthrodesis sites and bone healing in foot and ankle surgery. This article discusses bone grafting and orthobiologics and how they modify the healing environment. Clinics in Podiatric Med & Surg
MSC for Knee OA and and Chondral Defects
A systematic review and meta-analysis of 25 studies w/ 439 pts reported no significant difference in pain improvement between MSC treatment and controls. Cartilage volume improved after MSC tx and MSC therapy showed better functional improvement. Arthroscopy
Of the MACI cases canceled in H120 due to the COVID-19 pandemic, ~70% have been rescheduled, w/ over 50% of the canceled cases completed by the end of Q220.
---
SmartTRAK is a comprehensive, easy-to-use, business intelligence solution for the Life Sciences Industry that provides breaking updates on pertinent company news, potential treatments and guidance, international survey results, statistical analysis by country, studies, trial results, financial impact and more. All subscribers receive a Daily Updates email containing the latest need-to-know news curated by our expert analysts. It's the perfect way to start your day! If you would like to learn more about SmartTRAK, just click the button below.