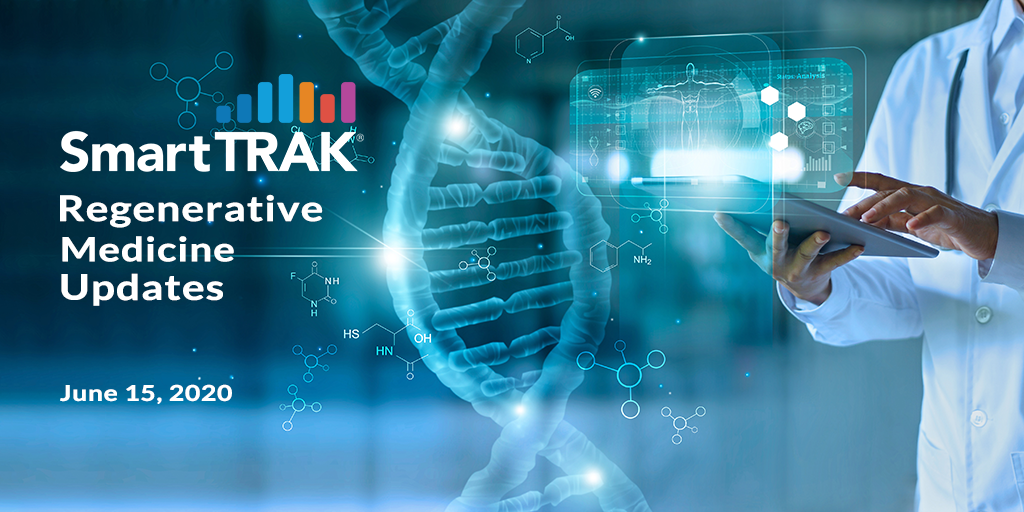 As states begin to loosen restrictions and we try and put COVID-19 in the rear view mirror, in the words of Bill Gates, "it's going to be a while before we can get back to normal" and companies are going to have to find creative ways to stay connected and engaged while moving forward and getting work done.
The following is a small sampling of Regenerative Medicine segment updates from the past week that were compiled, reviewed and posted in real-time by our SmartTRAK analysts, who are constantly monitoring the situation and sifting through the noise to present news, analysis, studies, trial results, patents and financial data that are most relevant to our subscribers.
TOBI 2020 Virtual Conference
For 2020, the TOBI Conference was held virtually due to COVID-19; still, attendance was fairly high. During one of the Virtual Lounge Q&A discussions, it appears that there is an emerging trend w/ some practitioners doing PRP inj then HA inj, not the other way around for knee.
Bone Therapeutics
BOTHE informed that in EU several clinical sites for JTA-004 Phase III trial have resumed recruitment as COVID-19 lockdown measures are lifted; 34 pts have been treated since the initiation of the trial mid-May 2020. Reporting of the topline results is currently planned for H221.
Detachable Hybrid Microneedle Depot for Localized Delivery of MSCs
This study presents a detachable hybrid microneedle depot (d‐HMND) for cell delivery The system deploys an array of "microneedles" w/ MSCs embedded in a gel-like matl, which prolongs cell viability & functionality, penetrating into a target tissue w/ high spatial precision. ADFM
PRP Formulations and Uses
US Patent Application "PLATELET RICH PLASMA FORMULATIONS AND USE THEREOF" was published, relating to compositions for PRP depleted in neutrophils to treat damaged connective tissue &/or slow/stop cardiac apoptosis after a heart attack, along w/ reperfusion therapy. 20200179455
IA Oxygen-ozone Therapy for the Treatment of Knee OA
A 120-pt Phase III study is underway to develop a rigorous protocol to eval effectiveness of IA oxygen-ozone therapy (OOT) vs HA inj (IBSA's Sinovial Forte) to treat knee OA. Main outcome measures pain using WOMAC LK 3.1 over 3 mos. Est study completion 12/22. clinicaltrials.gov
Biological Treatment for RC Conditions
US Patent "Treating rotator cuff conditions" was granted relating to using BMP-5 polypeptides to treat rotator cuff conditions as well as methods and materials for using inhibitors of SIRT6, SIRT7 and/or HDAC10 polypeptide expression. 10,610,570
BTIG noted in a call with ORGO mgmt that the Company was less impacted than its competition in March and April and has seen positive sales trends from late May into June and is cautiously optimistic trends will continue in a positive direction.
hUCMSC To Treat Lumbar Disc Degeneration Diseases
A 20-pt study is underway to investigate the safety & efficiency of Human Umbilical Cord MSCs (hUCMSC) to treat lumbar disc degeneration diseases, measured by changes in disc signaling values from MRI (baseline to 12 mos post-op). Est study completion 03/23. clinicaltrials.gov


Senescence-Related Changes in 3- and 2D Cultures of ADMSCs
Study results on senescence-related changes in MSCs isolated from human adipose tissue in 2D & 3D cultures showed 3D culture is able to improve senescence-related changes in ADMSCs and may improve prospect for applications as cell-based tissue repair systems. Stem Cell Res Ther
Cartilage Repair
US Patent "Cartilage gel for cartilage repair, comprising chitosan and chondrocytes" was granted. 10,612,001
Regen Lab's US Patent Application "CELL PREPARATIONS FOR EXTEMPORANEOUS USE, USEFUL FOR HEALING AND REJUVENATION IN VIVO" was published, relating to methods of prep, device and use of new plasma or new PRP preparation and cell associations or compositions. 20200179456
EULAR Task Force Releases 1st Guidance for IA Injections in Arthropathies
At the EULARS 2020 E-Congress, Jacqueline Uson Jaeger, MD of Mosteles U Hosp (Spain), presented data from the EULAR task force's 1st evidence-based document, which incl 5 main principles & 11 recommendations to guide clinicians administering IA inj in pts w/ arthropathies.
Hydrolyzed Fish Cartilage for Knee Discomfort
A 30-pt trial is underway to determine whether oral administration of Cartidyss, a concentrated fish cartilage extract, can contribute to the improvement of knee joint functionality and discomfort in adult population. clinicaltrials.gov
Cell Processing Kit
Rev-Med's US Patent Application "KIT FOR SEPARATING AND CONCENTRATING BODY FLUID CELLS" was published, relating to an apparatus designed to prevent contamination during inj of a body fluid (e.g. blood or bone marrow) collected during extraction of a centrifugate. 20200170558
---
SmartTRAK is a comprehensive, easy-to-use, business intelligence solution for the Life Sciences Industry that provides breaking updates on pertinent company news, potential treatments and guidance, international survey results, statistical analysis and impact by country, studies, trial results, financial impact and more. All subscribers receive a Daily Updates email containing the latest need-to-know news curated by our expert analysts. It's the perfect way to start your day! If you would like to see more of SmartTRAK's latest COVID-19 coverage and resources, just click the button below.