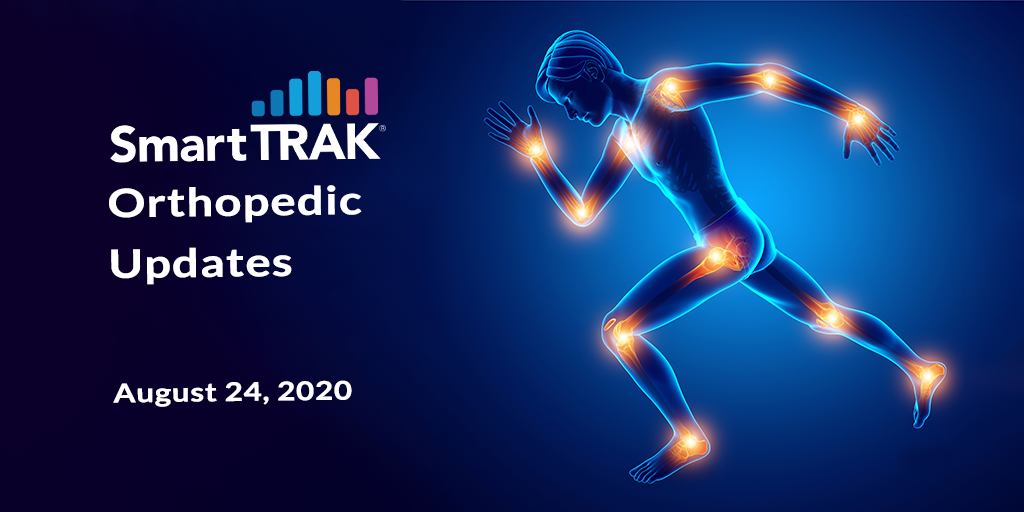 Facing the prevailing headwinds of the pandemic, the MedTech industry presses on with product innovation and plans for the future. SmartTRAK reports daily on the challenges still ahead, covering all aspects of the Orthopedic market: Extremities, OrthoBio, Spine, Computer Assisted Surgery, Total Joints, Trauma, Soft Tissue Fixation and EU Extremities and Trauma.
The following is just a small sampling of the Orthopedic updates from around the world compiled, reviewed and posted in real time last week by our SmartTRAK analysts. We constantly monitor the worldwide MedTech industry, sifting through the noise to present to our subscribers the most relevant international news, trends, new products, patents, financial data and competitor developments in the global Life Sciences industry.
Early Major Revisions w/ Anterior Approach THA
An Australian joint registry data study w/ > 122K pTHAs found while there was no difference in overall cumulative % revision between surgical approaches, the anterior approach had a higher rate of major revisions w/ lower dislocation and infection rates. J Bone Joint Surg Am
SI Joint Fusion Market
Needham expects a higher physician payment for minimally invasive SI joint fusion procedures to be a steady tailwind for market expansion going into 2021.
Total Ankle Arthroplasty Safer than Total Hip/Knee
A study of pts in the National Surgical Quality Improvement Program from 2006 to 2016 found total ankle replacement had a lower complication rate (2.98%) compared to total hip (4.92%) and total knee (4.56%) in the early post-op period. J Am Acad Orthop Surg
DePuy Synthes Products' US Patent Application "ACROMIOCLAVICULAR HOOK PLATE" was published, describing an acromioclavicular hook plate comprised of a rounded shaft for placement along the lateral clavicle & a hook member extending therefrom. 20200261117
Achilles Augmentation with Fascia Lata
This case reports on a 70-year-old pt w/ a 12 cm long Achilles tendon ossification, which was surgically removed and subsequently reconstructed using a fascia lata autograft. The Foot
Return to Play After ACLR with Extra-articular Augmentation
A systematic review w/ 19 ACLR + EA studies reported 82.8% to 100% were able to RTP, w/ 64% to 100% returning at the same or higher. All professional athletes were able to return, w/ 85.7% to 100% at same level. The mean time to return was 5 to 11 mos. Arthroscopy
Warsaw Orthopedic's US Patent Application "BONE SCREW EXTENDER REATTACHMENT SYSTEM AND METHODS" was published, describing a system & method for reattaching a screw extender to a screw head in situ. 20200261126
Four Treatment Options for Pediatric Femoral Shaft Fxs
The use of a titanium elastic nail provides superior clinical outcomes such as low anchylosis, lower malunion rates & time to union than casting, plate fixation or ex fix of pediatric femoral shaft fxs concluded a meta-analysis including 1,627 pts. Int J Surg
Influence of THA Head Size on Gait
Medical University of Warsaw, Poland, is recruiting pts for a randomized, interventional clinical trial to investigate the influence of femoral head size on gait characteristics following THA. clinicaltrials.gov
Biomedical Materials
US Patent Application "Free Fatty Acid-Based Composites" was published relating to biomaterials for use in medical device applications. 20200190429
DHS w/ Bone Graft or Cannulated Screws in Femoral Neck Fxs
A short Dynamic Hip Screw combined w/ a fibula bone graft can shorten fx healing time, reduce nonunion rates and femoral head necrosis compared to a DHS w/ cannulated screws in the treatment of Pauwels Type III femoral neck fxs reported a study of 35 pts. Ann Transl Med
US Patent Application "METHODS FOR KNOTLESS TISSUE REPAIR" was published describing methods for superior capsular repair to simplify graft shuttling and reduce the number of sutures required to complete the repair. 20200261072
*These links can only be viewed by SmartTRAK subscribers. For more information on how to receive a demo and subscribe, please click.
---
SmartTRAK is a comprehensive, easy-to-use, business intelligence solution for the Life Sciences Industry that provides breaking updates on pertinent company news, potential treatments and guidance, international survey results, statistical analysis by country, studies, trial results, financial impact and more. All subscribers receive a Daily Updates email containing the latest need-to-know news curated by our expert analysts. It's the perfect way to start your day! If you would like to learn more about SmartTRAK, just click the button below.