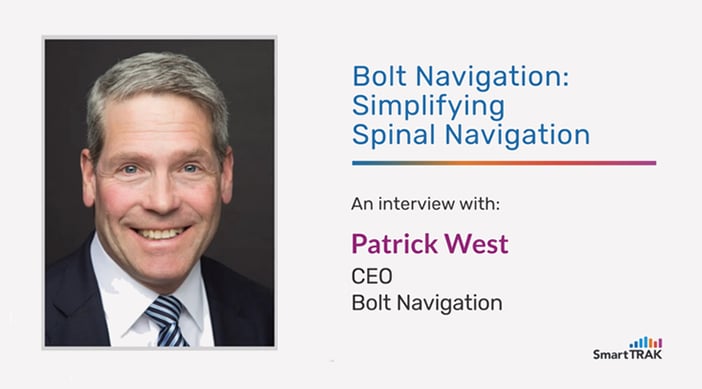 SmartTRAK interviews Bolt Navigation CEO Patrick West to learn more about the Company and its potentially disruptive solution for streamlined spinal navigation.
One of the most exciting enabling technologies on display at the recent North American Spine Society (NASS) 2022 annual meeting in Chicago was the Bolt Navigation System, a novel, FDA-pending technology developed by Bolt Navigation to simplify spinal navigation. Designed by a practicing neurosurgeon, Bolt utilizes a software application to leverage the positional guidance inherent in an iPhone for intraoperative spine screw planning and placement guidance. The system works without a reference frame and can be used with a patient's diagnostic MRI or CT and a single C-arm shot once the patient is positioned. It is implant agnostic and can be attached to almost any instrument.
To find out more about Bolt Navigation and this potentially disruptive solution for streamlined spinal navigation, listen to SmartTRAK's interview with CEO Patrick West in the following video (30:47 min). A link to a transcript of the complete interview is also provided below.

SmartTRAK: This is Shelly Caruso here with SmartTRAK. Today, I have the pleasure of speaking with Patrick West, who is the Chief Executive Officer of Bolt Navigation. So nice to meet you. Can we start by having you tell me a little bit about yourself and provide some history about Bolt Navigation?
Patrick West: Nice to meet you, Shelly, and thanks for speaking with me today. The background of the company is that it was founded by a neurosurgeon in Midland, Texas. His name is John Dorman. Dr. Dorman is a practicing neurosurgeon. About 70% of his work is spine, 30% cranial. He has had experience for years with traditional legacy navigation systems for his cranial procedures, tried them for his spine procedures, but felt that the complexity, cost and radiation just wasn't worth it. He felt like he was capable of placing screws and just didn't need a million-dollar drill guide, if you will.
He tried robots when they first came out. He's tried them again subsequently, even more complexity to do the same thing, placing screws accurately. But in addition to being a neurosurgeon, Dr. Dorman is a very talented programmer and has taught himself to code, in particular on Apple devices, and is quite talented, has a number of apps on the app store. They're not related to medical applications. But it struck him that the capabilities to be able to navigate the placement of pedicle screws lived in an iPhone. And that something that could make him faster, more efficient, reduce radiation, truly reduce radiation for he, his staff and his patient and do so in a cost-effective way, that would be interesting.
And so, over a number of years, he iterated a solution that first started ...
To download and read the rest of this fascinating interview "Simplifying Spinal Navigation" with Bolt Navigation's Patrick West just click the button below.
---
SmartTRAK
is a comprehensive, easy-to-use, business intelligence solution for the Life Sciences Industry that provides breaking updates on pertinent company news, potential treatments and guidance, international survey results, statistical analysis and impact by country, studies, trial results, financial impact and more. All subscribers receive a Daily Updates email containing the latest need-to-know news curated by our expert analysts. It's the perfect way to start your day! If you would like to learn more about SmartTRAK, just
here
.