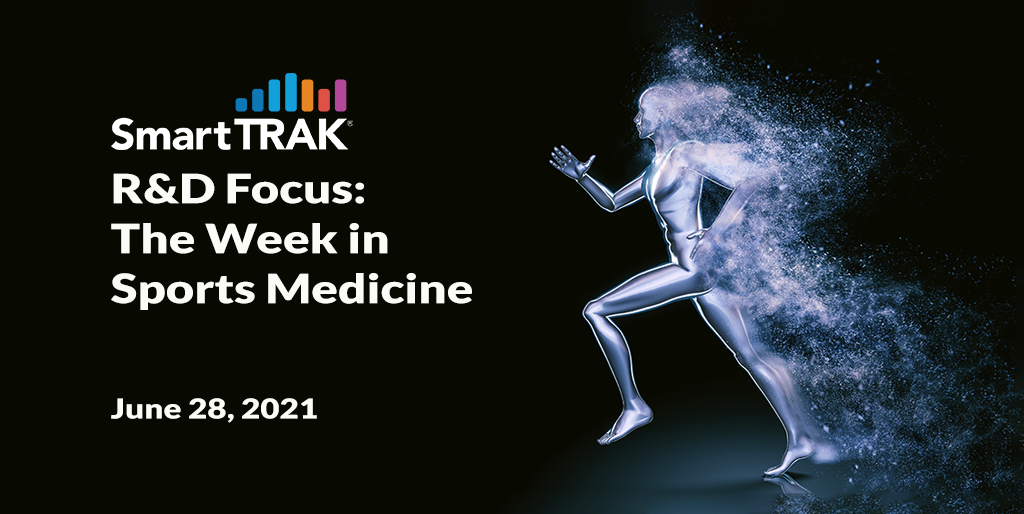 As the COVID-19 workplace restrictions ease up, the MedTech industry continues to progress with product innovation and plans for the future. In July, AOSSM and AANA are partnering for a combined annual meeting, the first in-person meeting for both since the start of the pandemic. SmartTRAK reports daily on the challenges still ahead, covering all aspects of the Sports Medicine market.
The following is just a small sampling of recent Sports Medicine related updates from around the world compiled, reviewed and posted in real time by our SmartTRAK analysts. We constantly monitor the worldwide MedTech industry, sifting through the noise to present to our subscribers the most relevant international news, patents, trends, new products, financial data and competitor developments in the global Life Sciences industry.
Patents:
Zimmer Biomet*

Biomet Sports Medicine (ZBH) was issued US Patent "Method and apparatus for forming a self-locking adjustable loop", describing methods and apparatus for forming a self-locking adjustable loop. 11,039,826

Cannabinoid for Sports Med Applications
Precision Biologic's US Patent Application "METHODS OF USING CANNABINOID COMPOSITIONS IN SPORTS MEDICINE APPLICATIONS" was published. 20210128521

Stryker (Ivy Sports Medicine LLC) was issued US Patent "System and method for all-inside suture fixation for implant attachment and soft tissue repair", describing an all-inside soft tissue repair device. 10,932,769
New Products:
VELYS Robot*

-

JNJ/DePuy Synthes*




Spine, hip and shoulder applications for DePuy Synthes' VELYS robotic platform will follow after knee replacement, and development is also likely to expand into trauma, cranial maxillofacial and sports medicine. SVB Leerink Note on JNJ Medical Device Investor Meeting

Sparta BioPharma - BioEnthesis For RCR
Sparta BioPharma, a privately-held company focused on osteobiologics for Sports Med announced commercial availability of BioEnthesis, the first-of-its-kind allograft w/ both mineralized & demineralized layers for rotator cuff repair.
Studies:
GENESIS II*

-

Smith & Nephew*




A retrospective study of 143 pts who underwent revision TKA (119) or complex primary TKA (24) using SNN's Genesis CCK reported pts who underwent primary TKA had a higher revision-free implant survivorship compared to revision TKA at 15 years. Knee Surg Sports

Machine Learning Algorithms Predict Functional Improvement After Hip Arthroscopy
The authors of this study sought to develop machine learning algorithms capable of providing patient-specific predictions of which athletes will derive clinically relevant improvement in sports-specific function after undergoing hip arthroscopy for FAIS. JBJS

ROSA Knee* - Zimmer Biomet*
In a 60-limb cadaver study, orthopaedic surgeons performed medial UKA w/ either ROSA Partial Knee (a product they were inexperienced with) or conventional instrumentation. With ROSA, cuts were more accurate w/ fewer outliers (both p<.05). Knee Surg Sports Traumatol Arthrosc

Deals/Financing:
Psychedelic IPO's Creating Momentum




Atai Life Sciences became the 3rd biotech company focused on psychedelic treatment for mental health disorders to list on a major US stock exchange. The deal underscores continuing investor interest & acceptance of what has been viewed as a fringe area of medicine. Yahoo

DJO Global*


DJO, a subsidiary of Colfax Corporation,

announced

entering into a definitive agreement to acquire

Mathys, a Switzerland-based orthopedic company that develops and distributes products for joint replacement, synthetic bone graft solutions, and

sports

medicine.
Zimmer Biomet*
During Q320, ZBH's

highlighted

two recently completed acquisitions,

Incisive LLC, a privately-held operating room (OR) solutions company and

Relign Corp., a privately-held company active in arthroscopy &

Sports

Med. Revenue for both will be recorded in ZBH's S.E.T. segment.
Clinical/Regulatory:
Knee Arthroscopy: Evidence For a Targeted Approach




Authors examine a number of articles published in recent editions of the British Journal of Sports Medicine where science may be overshadowed by oversimplification thus, they offer additional insights to focus the place of arthroscopy in the management of joint problems. bjsports

Return to

Sports

After ACLR


Retrospective study examines 300 patients surgically treated with ACL reconstruction at a single clinic between 2013 and 2018. Pts will be approached by a questionnaire regarding their return to sport after surgery. Study start Apr 2021, study end July 2021. ClinicalTrials.gov

Various SportsMedicine Conditions Amenable to Ankle Needle Arthroscopy
Authors discusses conditions and techniques for using needle arthroscopy in the ankle. Orthopedics Today
Markets:
Arthroscopic Technologies Market Aided By ASC Case Volumes


In the US, the Arthroscopic Technologies market was helped by the fact that most Arthroscopic Sports Medicine cases are performed in the ASC setting which was not affected to the extent that hospitals were by the COVID pandemic. Q121 Arthroscopic Technologies Market Recap*

Soft Tissue Fixation Market Aided By ASC Case Volumes
In the US, the Soft Tissue Fixation market demonstrated a move towards pre-COVID case volume numbers being helped once again by the fact that the majority of Orthopedic

Sports

Medicine cases are performed in the ASC setting.

Q121 Soft Tissue Fixation Market Recap*


Globus*
At the BTIG investor meeting, BTIG noted Globus' goal is to be the preeminent MSK company and mgmt noted that there are opportunities within extremities and

sports

medicine that could be complementary areas for expansion (timing undefined).

GMED – BTIG Investor Meeting Takeaways
Revenues:
Smith & Nephew*

Smith & Nephew reported in the SNN Q121 Trading Report strong gains in both Sports Medicine and Arthroscopic Technologies driven by the return of elective surgeries in the outpatient setting.

OrthoPediatrics*


OrthoPediatrics noted that FY20 revenue was $71.1MM, w/ US revenue totaling $63MM, 88.6% of total revenue. In Q121, the Company generated ~$21.5MM, w/ Trauma & Deformity revenue of $14.6MM, Scoliosis $6MM and Sports Med/Other ~$1MM. CG Virtual Musculoskeletal Conference

Stryker*
Stryker reported in Q121 the Endoscopy division had US sales of -5.7%, reflecting a slowdown in some of the capital business which was partially offset by gains in General Surgery, Video & Sports Medicine businesses, the latter of which grew over +11% in Q1. The Motley Fool
*These links can only be viewed by SmartTRAK subscribers. For more information on SmartTRAK, including how to receive a demo and subscribe, please click here.

Are you going to AOSSM-AANA? If you would like to meet with us while in Nashville find out what SmartTRAK can do for you, just click the button below.
---
SmartTRAK is a comprehensive, easy-to-use, business intelligence solution for the Life Sciences Industry that provides breaking updates on pertinent company news, potential treatments and guidance, international survey results, statistical analysis by country, studies, trial results, financial impact and more. All subscribers receive a Daily Updates email containing the latest need-to-know news curated by our expert analysts. It's the perfect way to start your day! If you would like to learn more about SmartTRAK, just click here.