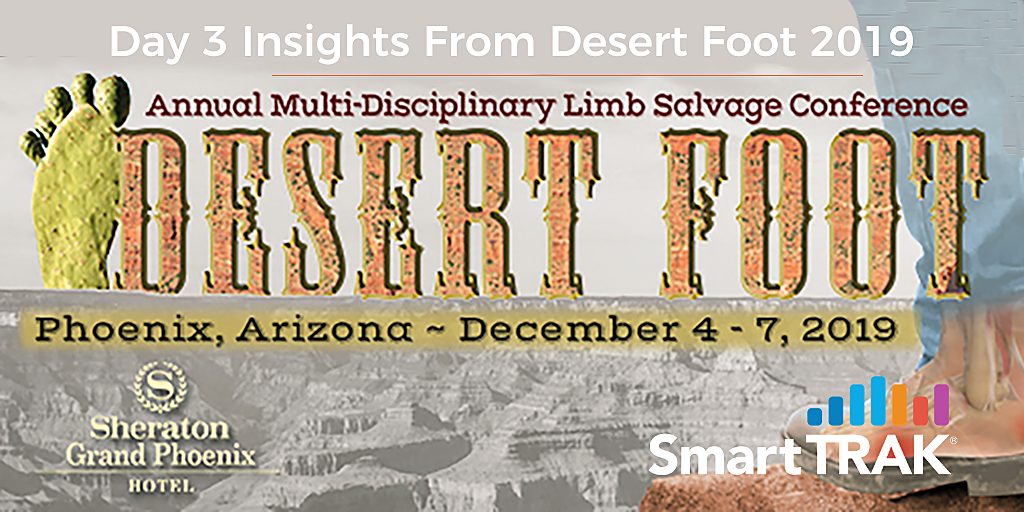 Whether you are a patient, a provider or product manufacturer it's difficult to make it through the day without being reminded that healthcare is expensive. Many patients see it in their rising premiums, copays and deductibles. Providers feel it when their reimbursement gets cut or is capped, and product manufacturers experience it when they hear, "it's too expensive."

Day 3 of Desert Foot provided several illustrations that clinicians and product manufacturers recognize the need to develop evidence-based tools, products and services that will not only lower cost, but also improve the quality of life for patients. Some of the ways we are seeing this in the field of limb salvage and wound care include ensuring the patient has proper vascular flow before applying a product, utilizing standard of care before trying more advanced therapies, and generating higher quality evidence that demonstrate the effectiveness of a product or therapy. Listed below are three specific findings from Day 3 that validate these insights.

Two presentations highlighted the importance of establishing proper vascular flow. David Davidson, DPM discussed the need for the podiatrist and vascular surgeon to take a team approach to wound care, and Hamid Sattar, Chief Medical Officer for Vascular Centers of America discussed the need for podiatrists to integrate vascular services into their scope of practice.
Lee Rogers, DPM gave two presentations, one illustrating the need to focus on standard of care before utilizing more advanced technologies and another on utilizing standards of care for managing DFUs by following steps outlined in the International Working Group on the Diabetic Foot (IWGDF) Guidance document.
Lastly, Cyaandi Dove, DPM gave a detailed presentation showcasing Level Ia evidence for cyclically pressurized topical wound therapy.
Day 3 Workshops featured Bach Diagnostics, ConvaTec, EO2, 3M, BioLab Sciences and ProMedTek.
---
Here are Terry's Top 3 Takeaways from Day 2 of Desert Foot. and his wrap-up post from the first day of the conference, Desert Foot 2019: Reflections From Day 1 .
Ahead of the Desert Foot conference, SmartTRAK interviewed Dr. Michael Shore, Director of Medical Education and a founding member of PRESENT e-Learning Systems, to preview the conference which is being held Dec 4-7, 2019 in Phoenix, AZ. Click to read Desert Foot 2019: An Interview with Dr. Michael Shore
And in case you missed our Know Before You Go interview with Terry Hayslett, you can read it here Desert Foot 2019: Know Before You Go.