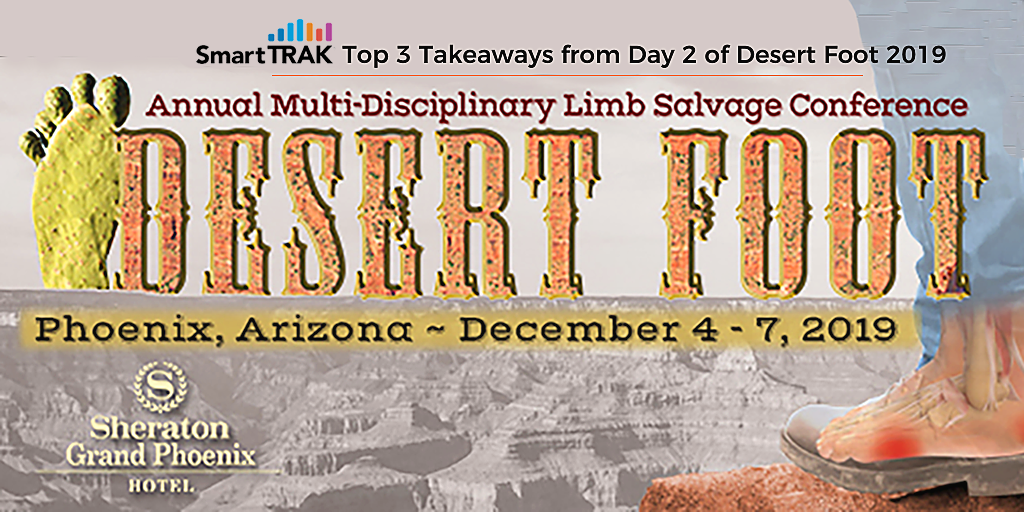 I'll be the first to admit that I am not a New England Patriots fan. As a matter of fact I get rather irritated when they win year after year. Nevertheless, it's hard to not appreciate the spirit of teamwork that has propelled the Patriots organization to win six Super Bowl titles. As we know, teamwork does not suggest the absence of conflict; however, it does express the willingness of a group of people, with individual talents, to work together to achieve a goal. Teamwork between clinicians, policy representatives and product manufacturers is crucial to winning the battle of healing wounds, salvaging limbs and saving lives. Three key takeaways from Day 2 of Desert Foot 2019 lend support to this point.
In a fascinating presentation titled "Orthopedics, the Diabetic Foot and Building the Multidisciplinary Team," Dr. Dane Wukich, Professor and Chair of the Department of Orthopedic Surgery at UT Southwestern and recipient of the Paul Brand Memorial Lecture Award discussed, among other things, the importance of collaboration between different specialties and how to assemble a diabetic foot team. Dr. Wukich, interestingly, underscored several leadership principles necessary to build an effective team, such as having a mission statement, having a plan and beginning with the end in mind.
Tomas Serena, Founder and Medical Director of SerenaGroup and President of the Association for the Advancement of Wound Care (AAWC), introduced the new partnership between AAWC and PRESENT e-learning systems. With the never-ending policy and regulatory changes created by organizations such as the Centers for Medicare and Medicaid Services (CMS) and the Food and Drug Administration (FDA), Dr. Serena discussed the need for stakeholders in the field of wound care to work more collaboratively and to speak with one voice to better educate Congress on key issues impacting wound care.
Lastly, it can't be emphasized enough how critically important it is for product manufacturers to work collaboratively with clinicians to develop and promote the proper utilization of products to help meet the needs of patients and improve clinical outcomes. On Day 2 clinicians once again rotated through workshops sponsored by Kent Imaging, KCI (Acelity), Integra LifeSciences, RedDress and AOTI. Check-in tomorrow to the SmartTRAK Blog to review Insights from Day 3.



---

Ahead of the Desert Foot conference, SmartTRAK interviewed Dr. Michael Shore, Director of Medical Education and a founding member of PRESENT e-Learning Systems, to preview the conference which is being held Dec 4-7, 2019 in Phoenix, AZ. Click to read Desert Foot 2019: An Interview with Dr. Michael Shore

In case you missed our Know Before You Go post interview with Terry Hayslett, you can read it here Desert Foot 2019: Know Before You Go.

And here is Terry's wrap-up post from the first day of the conference: Desert Foot 2019: Reflections From Day 1