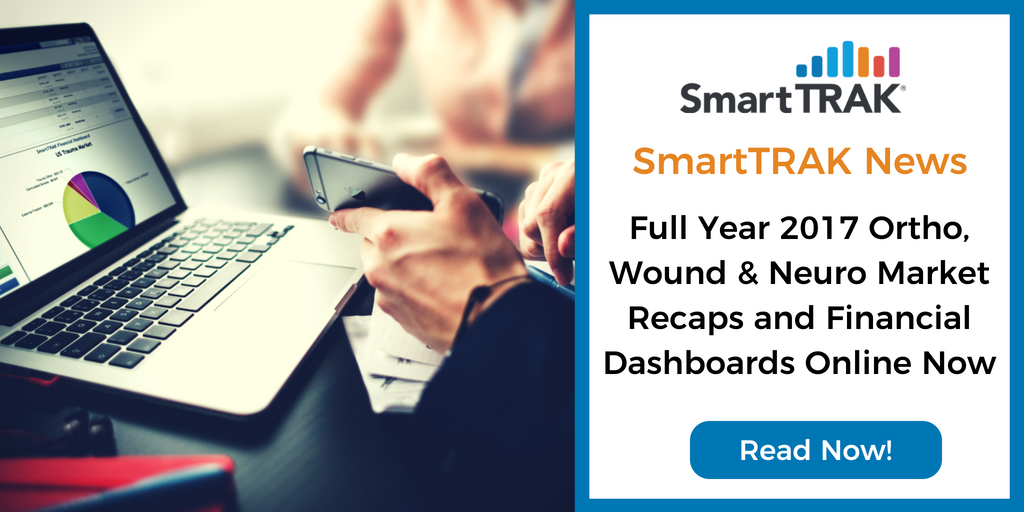 BioMedGPS is pleased to announce, as of April 2018, all 2017 Ortho, Wound & Neuro Market Recaps and Financial Dashboard Results are available on app.SmartTRAK.com. And Q118 results are just around the corner! SmartTRAK is the world's first real-time business intelligence portal for the Orthopedics, Wound Care and Neuro Therapies markets. Daily updates, strategic insights and in-depth analyses by domain expert analysts allow device executives to stay abreast of critical market information in real-time and access relevant information quickly.
SmartTRAK's Full Year 2017 Market Recaps and Financial Dashboard Results are available online for the major markets listed below. These Market Recaps summarize 2017 performance across a variety of verticals and provide deep insight into each market.
Orthopedics
Wound Care
Neuro Therapies
Spinal Cord Stimulation: The US Spinal Cord Stimulation market reached new heights in Q417/FY17, driven by new products, expanding indications, and a growing demand for non-narcotic alternatives for treating chronic intractable pain. Full Year 2017 Spinal Cord Stimulation Market Recap.
For more detailed information about SmartTRAK's market coverage, as well as areas of research and analysis, please go to www.smarttrak.com/Coverage .